Augustine Kitchen
Who or what is Augustine?
I always have suspicions when it sounds like people's names are used for restaurants.  It seems to make them sound like the local place around the corner to frequent constantly.  Friendly and honest food (I hate those words 'honest food'.  Does that mean that everything else is fake?) in a familiar environment.  Just think about all those times when you liked to say that you visited "Tony's", "Gordon's" or "Jamie's".  Well, at least the latter is soon to be gone.
With such thoughts in mind, I entered Augustine with trepidation.  I had no idea who this restaurant was trying to refer to.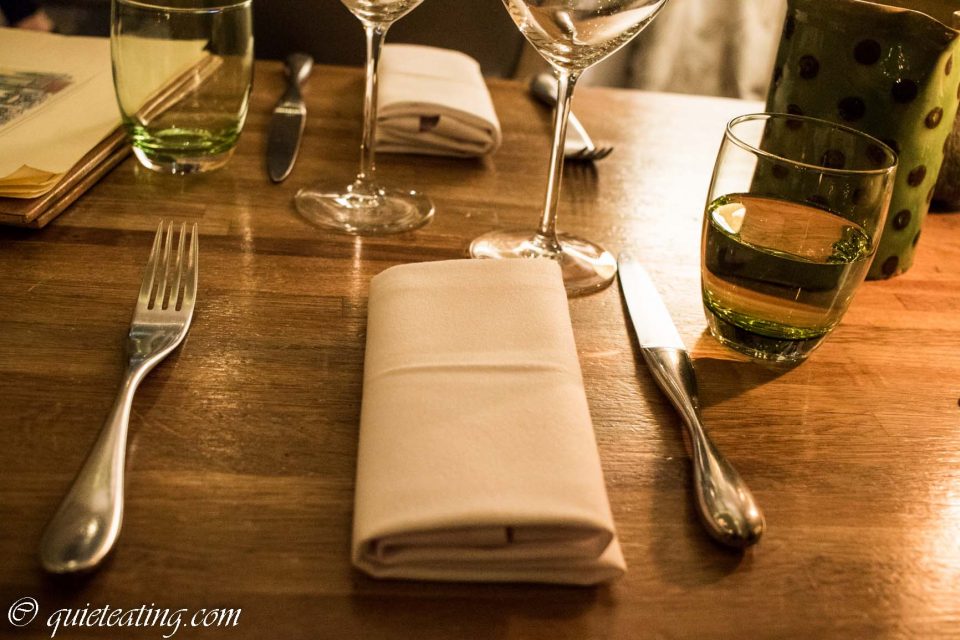 Placing.  Looked harmless enough to start.
Homemade bread and butter.  Rustic, crunchy and tasty.  Things were looking good.
Onion soup, croutons and abondance cheese.  While others partook in the liquid refreshments of another kind, I tried something more like an emulsion.  The onion soup was thick, delightful and the cheese, a sinful delight.  I had not heard of abondance cheese before but if I see it again, I will have to go for a taste again.
Escargots with garlic cream and parsley butter.  I knew a snail once.  He crawled past my balcony door.  Then he disappeared off the side.  Perhaps this is where I found him again.  Bouncy, chewy and drenched in garlic and butter, it was as moist as I would have expected he would be inside his shell.  Tasted good too.
Grilled rib-eye steak, peppercorn sauce and pomme allumettes.  I ate the french fries too fast.  That's why there is no picture.  I did savour the meat a bit longer, hence why you see it here.  It was rather better than my expectations.  I usually treat such slabs of meat with an abundance of caution as I have often witnessed the terrible sins visited on such cuts.  Thankfully, this was not to be the case here.  Carefully cooked medium rare, the delightful flavour of the beef made for a meat eater's dream.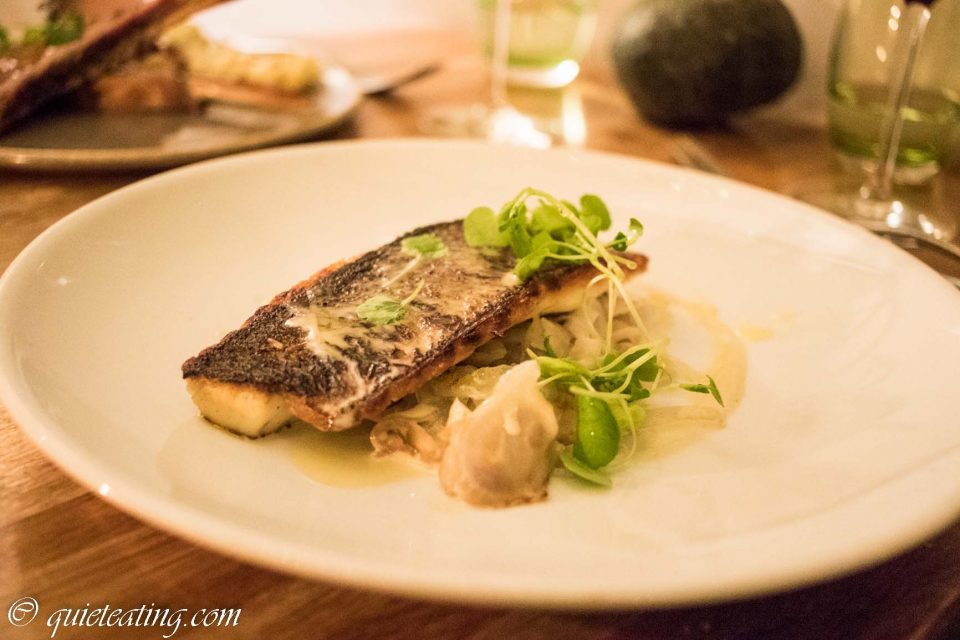 Roast sea bass, fennel, red onion and shellfish sauce.  Crispy skin, moist flesh and succulent vegetables topped off by a light sauce.  Although I preferred my steak, objectively I could appreciate this dish was good, if not suiting my mood this night.  From my small bites, it was good none the less.
Vanilla creme brulee.  Thick and cloying, the way I like it.  Creamy and satisfying.
In the end my prejudices were confirmed.  It was a homey restaurant.  It was something you would expect to be just round the corner of a well-to-do neighbourhood.  It was something that is somewhat of a dying breed in these days of Jamie's this, Gordon's that, Tony's shack.  To use other words that seem to surround food (which again I think are badly overused) it was unpretentious food served in a laid back environment.  Translation.  It was simple, well done food in a casual environment.  So next time I'm in the area and looking somewhere to return, I might suggest Augustine's.
A quiet eating 7/10.
Dinner (2 courses) was GBP23.50 excluding drinks and service.
63 Battersea Bridge Rd,
London SW11 3AU
---
---