Aster
Aster.  Is that a viking?  Sorry, I think my mind is being polluted by the recent computer attacks.  My brain seems to drift as I seem to be thinking of pirates. Maybe because it seems that everyone is being held up by ransomware nowadays.
Bread.  So when my friend suggested a new restaurant to try, I was more than game.  I needed something to take my mind off the slow degradation into a hostage society, when not only banks but hospitals are held up.  This bread basket was just the thing to take my mind off society's troubles.
Lithuanian scaled rye bread.  Moist and with a rich earthy flavour.  Delightfully filling without taking up too much stomach space.
London fields seeded bread.  More crunchy with nuts but still delightful in its own way.  A great counterpoint to the soft earthy rye before, this was crunchy without becoming too brittle.  A hard act to accomplish but even more delicious in its arduousness.
Rye with grains bread.  With a heavier flavour, something to balance the lightness of what had come before.
Scallop carpaccio, sea buckthorn, capers and liquorice.  Fresh.  Delicate.  Although good, this was not something exceptional.  Just seemed a bit too thin.
While waiting for the next set of foodstuffs, we gazed around the restaurant. High ceiling, bright and tastefully decorated, this was some excellent ambiance.
Zander, St Georges, tender leeks, vendance roe and sour cream.  A specimen of particular beauty.  This was the first time I had zander.  Yet, it will surely not be the last.  The combination of the delicate fish, the sour cream and the roe was exquisite.  With varying textures of smooth, flaky and firmness and the surprise of the bursting eggs, this was something special.
Pork cheek, belly, green leaves and cider sauce.  Overwhelmingly porky (in a good way), the crispy belly and the soft cheek went together to create a dazzling dish. And just in case you didn't get your fill of pig, there are some bacon lardons on the side.  If I was particularly starved for pork, this is what I would eat.
Swiss Chard Gratin.  A great little extra for our meal, here again we were treated to a great dish.  Although Swiss Chard is not necessarily my cup of tea (or bowl of greens in this case), the smothering of the vegetables in cheese, with some crunchy bits on top, is a good way to encourage me to eat my fibre.  It was not bad.
Sea buckthorn, skyr parfait, white chocolate and chili jam.  With contrasting flavours of refreshing tanginess with sweet and delicate macaroons, this was an excellent end to the meal.  A fresh way to end.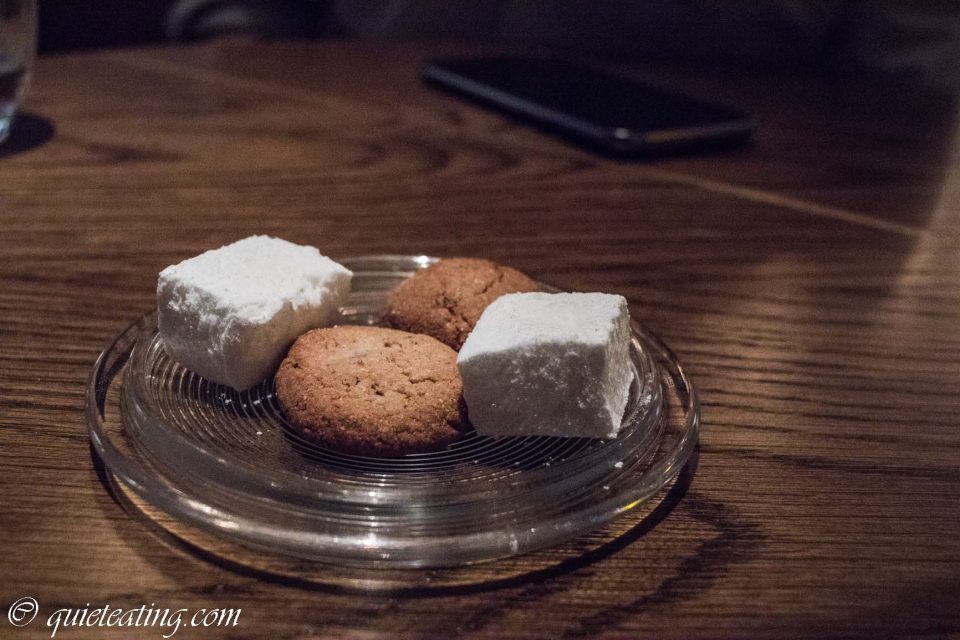 Petit fours.  Marshmallow squares with cookies.  A way to leave us with a sweet taste in our mouths at the end of the meal.
Aster, bright and shiny in the Victoria area, is an interesting restaurant. Successfully blending both French and Nordic influences to make something unique and perhaps greater than the sum of its parts.  Bold tastes combined with masterful cooking, slick ambiance and delightful bread, I think Aster will go far.  As long as they can avoid a viking style IT attack.  After all, people wouldn't attack a restaurant would they?  Would be almost as tasteless as picking on the NHS…
A quiet eating 8.5/10.
Dinner (3 courses) was GBP45 excluding drinks and service.
150 Victoria St, Westminster,
London SW1E 5LB
---
---