Angler
In a change from my usual luck, I wasn't the victim of unfortunate circumstances.
Instead, it was my friend (lucky him).
I must applaud him for keeping his cool while trying to buy an ice cream.  It first started with a grumpy ice cream man with annoying gesturing, escalated to forceful words and then a demand that he leave the establishment.  All within the span of about 60 seconds.  With the various barbs flying out of that man's mouth, I was surprised that my friend kept his cool.  I could almost feel the steam coming off his close-shaven head (easier to see emotions on hairless men).
Yet he is a better man than me, as he walked away before it escalated further.
This preamble is in no way a reflection on what I eat.  I just thought it would be an amusing introduction.  It bears no relation at all to my meal.  Meaningless prattle would be a good way to lure someone in to read my idle words.
This is Angler.  An upmarket seafood restaurant in the city.  A calm oasis in the busy City.
Caramelised yeast and malt butter.  In a careful oblong.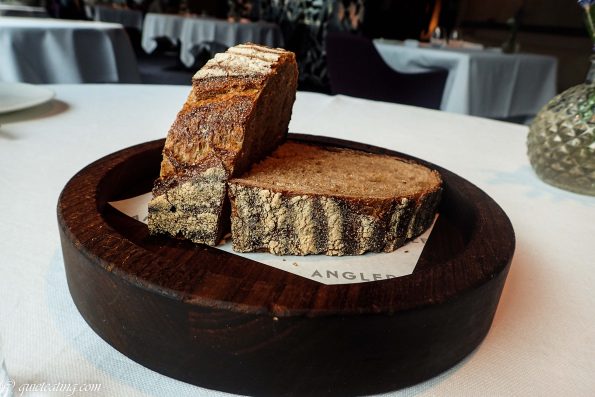 Stout bread.  This was an interesting bread.  It had a light taste of beer and yeast with was further fortified by the butter.  It was unusual with a deep earthy taste presented in a stylish manner, trademarked at the bottom right corner, just in case you had a bit too much to drink and forgot where you were.
Crackers with fish egg.  Rich cracker with a topping of extremely umami egg, it was almost overpowering flavour in a small crunchy package.  Excellent.
Blue cheese crackers.  Followed up by something else rather savoury. Crunchy base slathered with fulsome cheese.  A happy delight.
Shoepastry with cheese filling.  Continuing this theme, these almost cloying balls were a delightful bite to pop as they had just the right amount of cheese inside.
Puglian burrata, flat peach, fine beans, hazelnuts.  In contrast to the amuse bouches, this consisted of light and fresh flavours.  Fresh fruit and vegetables with nuts, moving towards more unprocessed ingredients, the flavour profile was carefully balanced.  As an added plus, it looked good too.
Tomato jelly, gazpacho vinaigrette, goat's milk sorbet, lemon oil.  Deliciously sweet and crunchy tomato with inspired smooth milk on top.  This is what tomato is supposed to taste like, not like insipid grocery fare that tastes like water bombs.
Avocado tartlets.  Continuing with this smooth theme, when eaten with the aforementioned tomatoes, they provided a great counterpoint to sharper tastes.
Cumbrian lamb, basil creamed potato, aged balsamic, new season garlic.  Deliciously flavourful as the small pieces of fatty lamb on a bed of potato and lightly cooked vegetables, these did not overpower but rather complemented each other.  It seems that someone in the kitchen is quite an acrobat, able to balance on a point.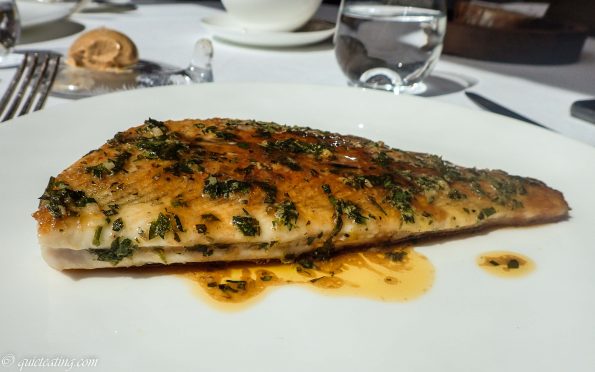 Grilled lemon sole, cafe de paris butter, jus gras. Carefully cooked, it was just the right side of done with a smooth and citrus twist.  Although it seemed to be rather lonely, sitting as it was by itself.  It was missing its vegetable friends.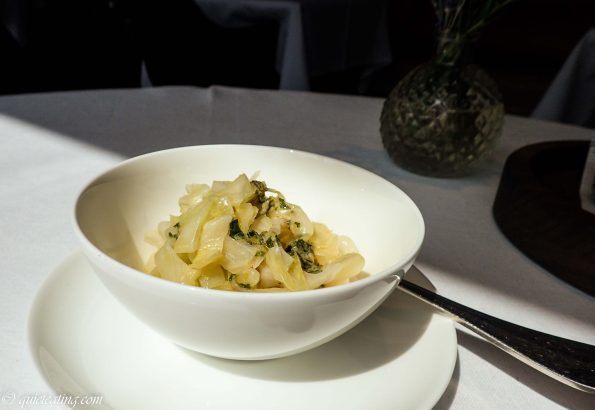 Hispi cabbage.  Even if a little side of cabbage tried to alleviate its friendlessness.  It was not bad although I think the fish could have done with more company.  It avoided the tastelessness of cabbages that I have known and instead was carefully seasoned to complement the lemon sole.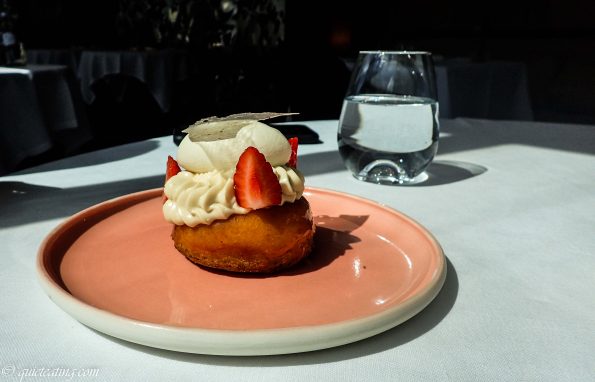 Strawberry savarin, toasted rice ice cream, pink peppercorn, mascarpone.  Delightfully unusual.  An uncommon mixture of flavours providing something that was both a feast on the eyes and fulfilling on the tongue, with creaminess, sweetness, and the almost savoury savarin.
Warm brioche pizzetta, chocolate.  A fascinating dessert.  Using a base usually found in more savoury foods, the chocolate and sugar dusting was inspired.
Pink praline, crushed peaches.  With the addition of this vicious side of dessert, it was a particular delight.  A smooth end.
Angler surprised me.  Not in a bad way like how my friend had been treated but instead in unusual combinations and flavours that were unexpected.  Will have to keep this place in mind next time I am looking for seafood with a difference.
A quiet eating 8.5/10.
Lunch (3 courses) was GBP 38 excluding drinks and service.
3 South Place, South Place Hotel
London EC2M 2AF
---
---