WA cafe
Before venturing forth to this cafe I had to do a bit of digging online and I was pleasantly surprised.  I think WA cafe has one of the best looking websites that I have seen in recent memory.  The photographer in me admires their shots of their food and the foodie in me drools silently.  So I just had to check out to see if it was as good as it looked.
If you have been following my posts closely, you will notice that I am on a bit of a Japanese run with a Japanese pub, ramen joint and now a cafe.  I admit I was extremely excited by the katsu sandwiches on offer.  To explain, these are breaded chicken katsu sandwiches with lettuce, mayonnaise, tonkatsu sauce, carrots and tomatoes.  A fried sandwich delight.
An pan.  Red bean filled bun. A very Japanese invention as you can often get steamed buns filled with red bean in China but only in Japan do you find it in a Western style bun!  It was almost with an air of amazement that I greeted this treat after spying these buns in the cafe.  They were as good as I remembered from days past, the rich red bean paste combining with the soft airy bread to create a pleasant delightful taste.
Curry pan.  Deep fried bun with curry filling.  Again, something which is quintessentially Japanese.  One of life's guilty pleasures.  Curry inside a deep fried bun.  Mmmmm.  It is as good as it sounds.
Raspberry mousse.  This little treat reminded me why I love Japanese pastries.  The berries were sweet and the mousse creamy yet able to (barely) hold its shape.
Matcha roll cake.  Waxing lyrical about these, the sponge cake was soft, bouncy and managed to be almost as light as air while still preserving the rich matcha taste.  I did entertain thoughts about eating this entire roll but if I did that my face (it is a bit of a messy cake to eat) and my wallet would complain.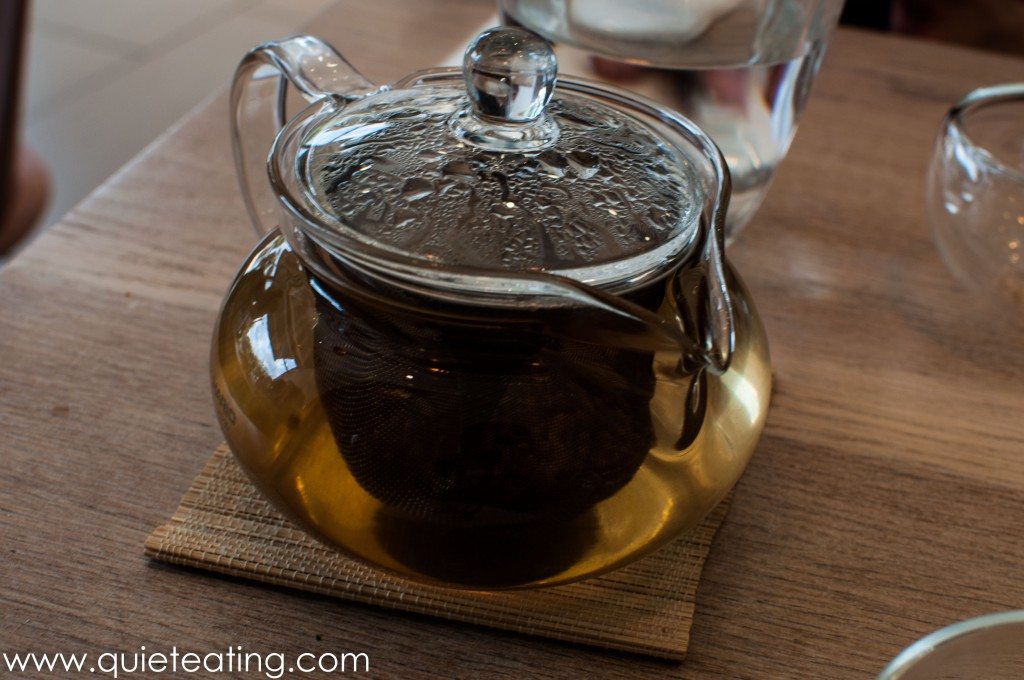 Soba tea.  I think this is the first place in London that I have seen offering this.  It was a delightful surprise to enjoy this light soba tasting tea.  Sorry that I cannot elaborate on this further but words fail me.
WA cafe transported me back to Japan with its eclectic mix of Japanese goods. The cafe itself was very pleasant with double height ceilings, comfortable booth seating and obvious care taken in the selection of contemporary yet understated wooden chairs and tables (and the bin in the toilet). With its massive windows facing Haven Green, I almost felt that I wasn't in London anymore. Service was professional, friendly and swift. If only it was my neighbourhood cafe… Although I would guess that Ealing, with its large proportion of Japanese nationals, is exactly why it is situated where it is. I guess it is my loss, their gain. I'll just have to convince the staff to open a branch in the east.
A quiet eating 7/10.
Lunch (2.5 courses) was GBP15 excluding service and drinks.
32 Haven Green, Ealing
London W5 2NX
---
---