The Heron
An interesting thing seems to be happening these days.
Proper restaurants are forming inside of pubs.  Perhaps it is a sign of the times, people are not satisfied with pub grub to go with their beer and demand something more.  Or perhaps the margins are better with food on the side.  Alternatively, perhaps if the food was salty enough, it might encourage more liquid refreshments.  Or perhaps if it was suitably adventurous, trying some of the food might require liquid courage.
In any case, I have been to some which are quite good such as Smoking Goat.  I didn't know what they were smoking in the back room but whatever it was, it made the food taste good.  I only hoped that this trip would be as good.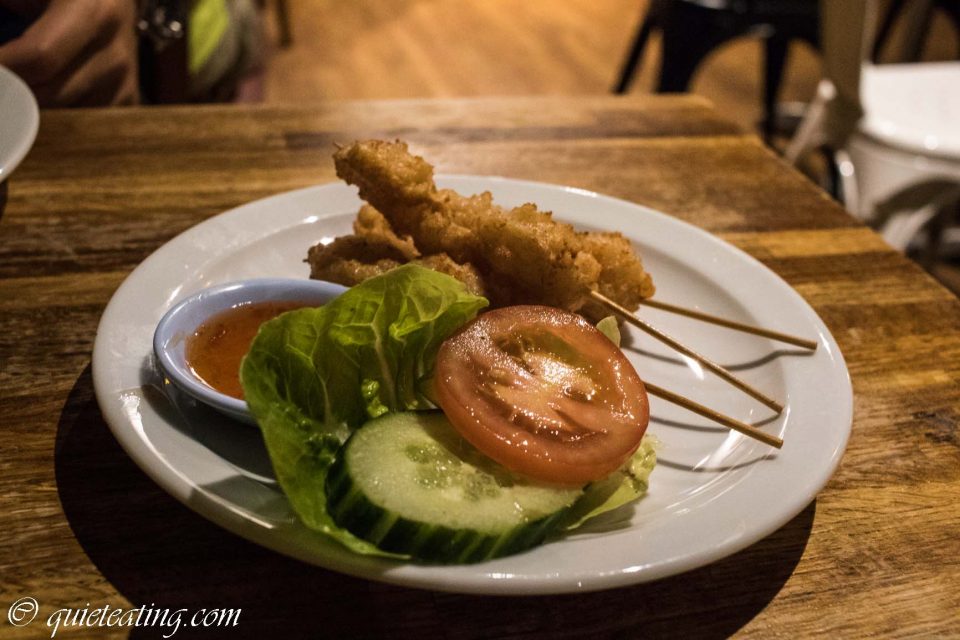 Deep fried prawn meatball, deep fried prawn minced balls served with chilli sauce.  A bit tasteless and rather insipid.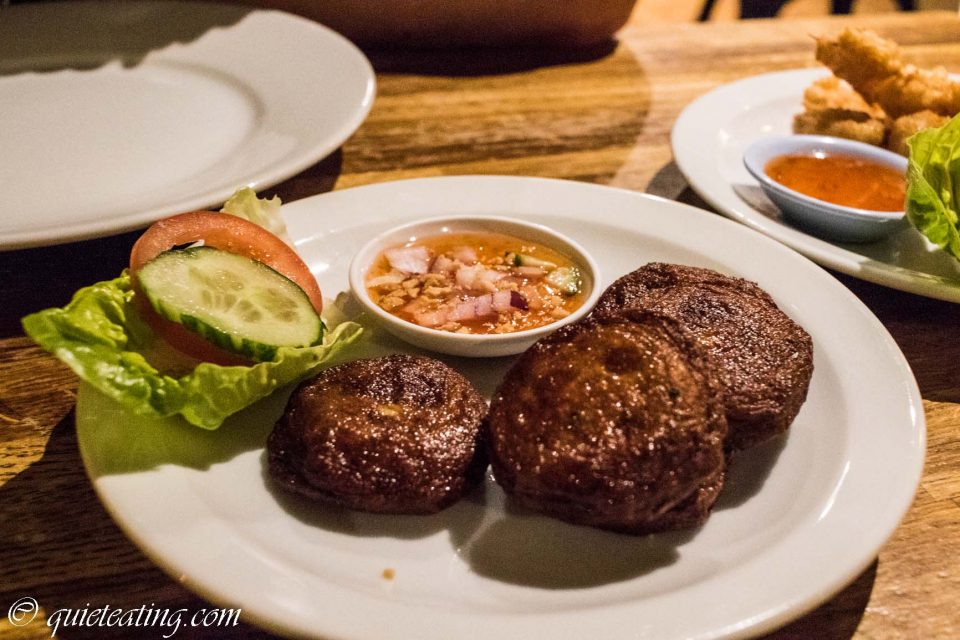 Thai fish cakes, minced fish with chilli paste deep fried served with cucumber salad.  Oily and rather lacking in taste which even the sauce was unable to rectify.
Pu Nim Pad Prik Thai, deep fried soft shell crab with curry powder, pepper and scallion.  This was a demonstration of crab ending up in a mush reduction.
Kor Moo Yang, grilled pork neck served with special dipping sauce.  Overcooked and a bit too dry.  Limp would be the best descriptor.
In the end, a rather lacklustre affair.  Thinking of reasons why it was so, perhaps I picked the wrong things.  Or I just didn't appreciate the style of cooking.  Alternatively the problem may be that I didn't dull my senses with copious amounts of drink (you would need quite a bit to make this seem something worth coming back for).  Yet, maybe there is a lesson learned here.  Usually a pub is just that.  A drinking and not an eating hole.
A quiet eating 6/10.
Dinner (2 courses) was GBP22 excluding drinks and service.
Norfolk Cres, Hyde Park Estate,
London W2 2DN, UK
---
---