Taste of India
As my friend is very keen to point out, he doesn't generally do supper clubs.  He finds them generally lacklustre, amateur and sometimes laughably chaotic affairs.  So I faced a Herculean challenge in convincing him to come to this one.  Arriving slightly earlier than him, when trying to find my way through the middle of the venue, I was introduced to the back of a bar.  Neatly set up for a horde of eager enthusiastic culinary fanatics, this supper club was completely booked out.  What made this a challenge for me was that the food would be by and large lacking meat.  Although, what's life without challenges?
Mini pappadoms served with a selection of chutneys.  A nice little way to start.  I apologise for my fellow diner who demolished these with little aplomb.
Chevda Chaat served with date and tamarind chutney, a savory snack combined with chickpeas, potatoes, mango, pomegranate, coconut and fresh coriander.  This was a surprisingly good dish, as I did not expect just vegetables to be so tasty.  The excellent combination made me think that being vegetarian wouldn't be that bad after all.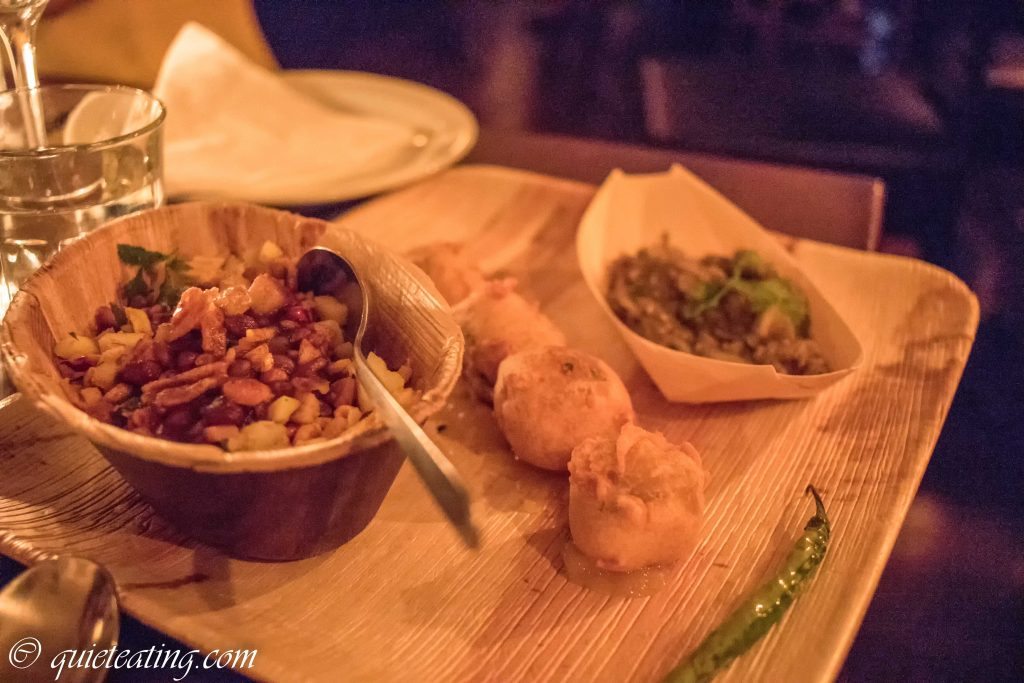 Centre – Batata Vada served with mango relish, potato seasoned with spices, dipped in savory batter and fried with mango relish.  Right – Begun Pora, aubergine baked over and open flame tossed with red onions, coriander, chilli and mustard oil.  The potato balls were crispy with an interesting sweet taste and were dangerously filling.  A bit difficult to leave space for other food. The aubergine had me fooled, I thought at first that this was mashed avocado.  Smooth and light, this was a great introduction for the mains.
Masoori daal, red split lentil tempered with mustard seeds and chilies accompanied with fresh fragment lemons.  Fragrant and smooth, it had a wonderful consistency.  I can see how this can act as a meat substitute.  It almost satisfied my carnivore cravings.
Gujarati Undhiyu, a semi-dry mixed vegetable and fenugreek dumpling curry with a modern twist by adding paneer and roasted peanuts.  Continuing on the vegetable theme, this was a great dish if you prefer to see your vegetables rather than viewing them in a melting pot.  Apparently everyone else on the table thought it was excellent too, as this is all I managed to have.
Daab Chingri, prawns delicately prepared in coconut gravy.  The first of the non-meat dishes, a very light coconut gravy only serving to highlight the taste of the prawns.  Maybe due to the vegetable dishes that had gone before, the elegant taste of the prawns shone through.
Kolhapuri Mutton Curry, mutton marinated in warming spices, cooked in a thick gravy served with coriander raiti.  Sadly, here with the only meat dish of the day, I was a bit disappointed.  Probably because of my uncultured tastes, this was a bit too watery for me. Lacked depth of flavour and probably the weakest dish of the meal.
Chappati – freshly made unleavened bread served hot with butter.  Delicious chappati.  Smooth and buttery.  Again, another reminder that you can be happy if you can't eat meat.
Right – Caramelized coconut and banana, sweet mini bananas cooked with fresh grated coconut, caramelized in a cardamom flavoured sauce.  An interesting dish, it actually reminded me of a lighter version of banoffee pie that I would occasionally make at home.  Not bad.
Left – Spiced White chocolate, pistachio and lemon posset served with nankhatai, traditional lemon posset uplifted with roasted pistachios, green cardamom and white chocolate.  A lovely little creamy final act to the meal.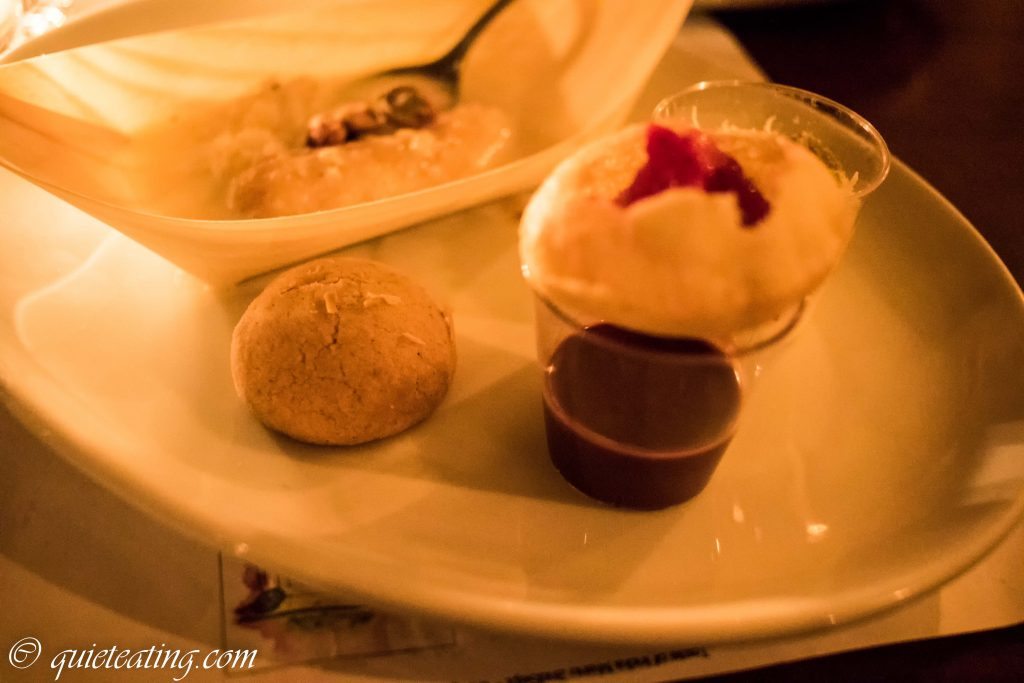 Right – Strawberry and chocolate gol guppa, puffed crispy wheat balls, filled with strawberries and served with spiced chocolate sauce.  Here, I  seemed to have left my brains behind.  I promptly spooned the entire wheat ball into my mouth.  It was only after this irreversible action was complete that my helpful fellow diner pointed out that the chocolate is to be spooned into the ball.  What followed was a Mr Bean impersonation as instead of trying to make coffee out of various ingredients and just swirling it around in his mouth I did the same with the puff ball and chocolate.  Not one of my most glorious moments.
Left – nankhatai – Spiced Indian Shortbread, with a classic almond and pistachio flavour.  Biscuits like this are a dangerous thing.  With a great taste I have not had the pleasure of trying before, I was blown over by the subtle notes of nuts and spice.  If all biscuits were like this, I could happily experiment to see if man could survive on biscuits alone.
This is my second supper club to date and this far eclipses the first.  The atmosphere was buzzing, not really a place for the quiet eating team.  At times, I couldn't hear myself think, so great was the raucous chorus recounting travel stories and complimenting the food.  It seems like you can survive and actually enjoy yourself, even without meat.  Or perhaps that is just me.  So much so that I will be looking forward to a permanent establishment by this trio.  Meanwhile, I'll keep gorging myself on the biscuits.
A quiet eating 7.5/10.
We were invited to review.
Hosted by Chintal of ChinsKitchen, Manjari Chitnis of The Bombay Kitchen and Rinku of Raastawala.
---
---