Pasta Remoli
My friends have a lot of inertia.  It takes a lot to move them out of the comforts of Zone 1 London.  Yet when we were invited out to Finsbury Park to try some Italian food, my steady cajoling was eventually successful.  Just have to start early.  Although maybe the restaurant's location just 1 minute from Finsbury Park station may have influenced the decision.
The unassuming exterior.  We all wondered what was lurking inside.  Would it be some overpriced, overhyped eatery?
Things started off well.  Water in a stylish bottle.  A good sign, although the shape does not allow for easy pouring.  That is without losing bits of the elixir of life.  I was generally quite easy to please at this stage as I was desperate for a drink.  Although not desperate enough to drink pickle juice as one of my "friends" long ago tried.  It had an interesting palate-encompassing flavour.  I've never had it again.  Enough about my drinking habits.
Insalata di mare, seafood salad.  The seafood was fresh and cooked just right.  Not too little that it was like failed sashimi but not too much that it was like failed rubber.  Thoughtfully the staff had not seasoned this much at all but left it to the individual diners to add their salt and pepper.
Deep fried ox cheek.  These were excellent.  Succulent ox cheek in breaded parcels with capers. Set off with a bit of horseraddish, these were moist meaty treats.  So good that once I finished mine, I greedily reached for more.
Burrata cheese and parma ham.  The cheese was pleasantly meaty.  The parma ham was pleasantly salty.  Together they added up to a pleasantly squared dish.
Bread and focaccia.  Something to mop up the leftover juices of the other dishes.  These were not bad but sadly disappointing.  They were just unassumingly ordinary, not what I was expecting given the calibre of the other starters.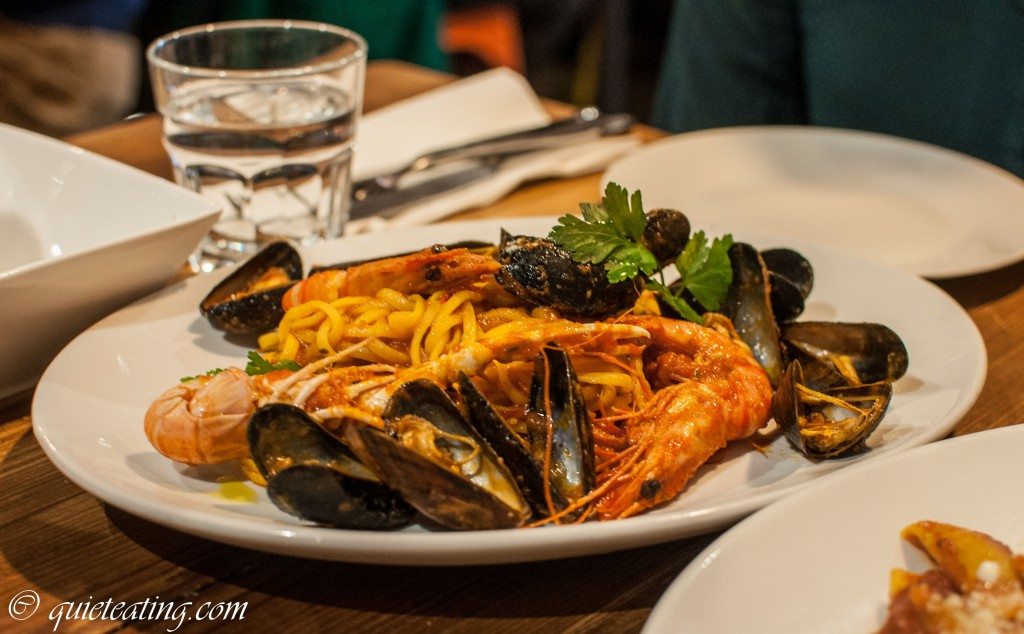 Linguine with seafood sauce.  Langoustine and mussels in a rich tomato sauce lent a meaty air to the dish.  However, it was the pasta which really stood out for me.  The linguine was cooked al dente and soaked up the juices of the seafood so you could enjoy tasting the seafood again.
Oxtail agnolotti with oxtail sauce with pecorino cheese.  These little packets of cow were a delightful surprise.  It was as if oxtail which had been cooked in a stew for 5 hours was carefully spooned into pasta parcels and then dressed with pecorino cheese.  That is just a guess of course.  The waiter didn't tell us that…
Lamb cutlets, salad and potatoes.  With a slightly pink centre, these lamb cutlets were succulent and tasty.  What was even better was the potatoes.  Not your ordinary tasteless potatoes, these had a little sweet kick, almost as if they had a touch of sweet potatoness.  The salad was a welcome addition to the diet of one of the quiet eaters.  Just not me.
Fresh ricotta cheese cake.  I found this cake a bit heavy, not as I would have expected ricotta to turn out.  It wasn't bad, just not up to the standard of the previous dishes.
Pannacotta with chocolate and wild berries.  This was very rich and creamy and a delight to stuff my face with.  Good thing I had two fellow eaters to restrain me.
Tiramisu with disaronno jelly.  Although this appeared rather radioactively yellow and unlike any other tiramisu I had had, the taste belied the appearance.  I wouldn't say that it was just edible, as this would not do the dish justice, but among its peers, it was unfortunately the weakest of the desserts.
Latte in a jar.  A rather ordinary coffee in an interesting little cup.
I admit to being quite pleasantly surprised at the quality of the food at this monetary level.  Although there were some dishes which were just a little above average, some were outstanding.  A very enjoyable lunch at a reasonable price.  My amazement is that more people aren't beating down the door.  Good thing it isn't around my local neighbourhood, otherwise it would make me fat.
A quieteating 7.5/10.
We were invited to review.  Estimated price for lunch (3 courses) was GBP20 excluding drinks and service.
Addendum: We were invited over several months later.  Here is what followed.
So I received a request to come back to Pasta Remoli.  To enjoy a new collaboration, between themselves, a cheese shop and a ham provisioner.
Clockwise from the bottom, Parma ham, mozzarella with tomatoes, ham and cheese croquettes, quiche, ham tarts.  With a buffet of antipasti to start, we whetted our appetite ahead of the main event.  These were not bad – I especially enjoyed the croquettes and rather shamefacedly must admit to eating about 8 or so throughout the meal.  They really were that good.
With such a happy happy man, Mr Remoli cooking in front of us, the event took on a more personal element.  His joy at cooking seemed to transfuse into the pasta.  This event was to celebrate an interesting way of cooking.  For those of you that love Parmesan (like me) what's better than having your pasta sprinkled with the stuff?  Well, cooked in a huge wheel of Parmesan of course!
And what is better than that?
Seasoning it with a bit of burnt taste of course.
To come up with this excellent carbonara.  I think this is the singular best carbonara I have ever had.  The al dente pasta cooked with lovely bacon, cream and egg topped tossed in lovely cheese.  The pasta held lovely firmness and together with succulent chunks of bacon made me a very happy man.
At a slightly lower price then Pizza Express and Carluccio's, I think the chains have some serious competition coming their way.  After this little event, I can't look back in anything but happiness at Pasta Remoli.  If you are hankering for some good pasta at rock bottom prices, this was the place for me to be.
A quiet eating 8/10.
Dinner (2 courses) was GBP15 for this event.  One of us was invited to review but the other happily paid to enjoy the event.
7 Clifton Terrance
Finsbury Park,
London, N4 3JP
---
---