Outlaw's at the Capital Hotel
So to purge my memories of my last restaurant mistake, we decided to attend somewhere a bit less ambiguous in its reviews.  Outlaw's.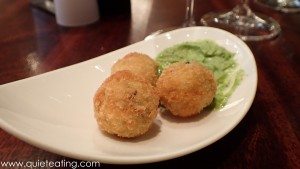 A restaurant that was known for its sea food, the lunch started promisingly with breaded deep fried fish balls.  I love almost anything deep fried.
Bread.  Soft and enjoyable.  The rosemary infused bread in particular was quite good.
Crispy oysters.  My starter.  I have always enjoyed oysters and picked up a particular love of it in Japan.  Kaki furai (カキフライ) was one of my favourite dishes during my long sojourn there.  These were not bad but I thought that the batter was a touch too oily.
Smoked haddock risotto.  Cooked just right with the risotto maintaining its ricey shape and not dissolving into an ambiguous blob as I like to cook my own rice to the horror of my friends.
Herb crusted cod with mushrooms and grapes.  Now for the main event.  I usually do not like cod as it seems a bit tasteless but was willing to give this a try as the cod I had at Fera helped to change my prejudices.  This cod unfortunately reminded me why I do not like this fish.  It was just too plain for me.  Much like eating cheese and biscuits without the cheese.
At this point, I needed to make a short break for the bathroom.  There, I found a man in his underwear furiously toweling himself off with paper towels.  "Caught in the rain?" I asked?  A vigorous nod was my reply.  I quickly did my business and bade my farewells.  After this amusing interlude I returned to the table.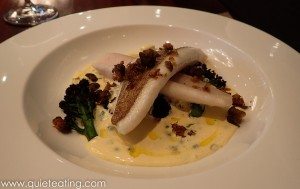 Lemon sole with cream.  Not so flat a taste so more to my liking.  Either that or I was experiencing neighbour envy.  You know how the grass is always greener on the other side?  I'm not talking about the broccoli here.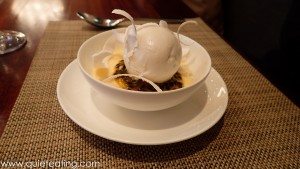 Passion fruit with ice cream.  The passion fruit combined with the ice cream to create a pleasant flavour.
Panna cotta with rhubarb.  Not bad but again nothing to write home about.
Toffee and macaroon petite fours.  Unexpectedly good!  The toffee was sweet but not overpowering and the macaroon also had a subdued but pleasant taste.
Throughout the whole lunch, my dining companion kept looking around.  He later confided in me when the waiters were out of earshot that the place looked exactly as it had been the last time he attended here.  Which was 7 years ago.  The food was solid but not awe inspiring.  When combined with its location, the set lunch was good value when you consider that you are surrounded by the pied a terres of billionaires so I can see how it received an award for best value set lunch in this area.  Worth a visit if you were in the area but probably not worth a trip out of your way.
A quiet eating 6/10.
Lunch (3 courses) was GBP27 excluding drinks and service.
22-24 Basil St, Knightsbridge
London SW3 1AT
---
---