New Forest
With such clarifications out of the way (stay home everyone, it is for your own good), I thought to write the below to brighten up your (and my) day.
By way of another disclaimer, regardless of the cover photo for this post, this is not about me eating a ferret.  It is (as usual) about me eating but the ferret was just someone I saw in between meals.
The below is about my trip to the New Forest.
Given the political chaos among the enlightened ruling class, something that seems to be sadly more common these days, we felt we needed a bit of peace and quiet.  So out of the pandemonium of London, we thought to decamp to the country side.  Fleeing to the country side (at least for a few days) had particular attraction.  Less people to stoke up mindless hysteria here and even if people tried, I do not think the deer would be particularly empathetic.
In my usual stubborn nature, I refused to go with the top hotels/estates chosen from the newspapers.  Instead, I was sure that I could pick something much better myself by doing some detective work.  However, choosing a place to stay was a bit difficult given the numerous options on offer.  To narrow down the choices, I thought to narrow the criteria to choose a local bed and breakfast.  Annoying person that I am, I decided to put emphasis on the "B" part.  So after a comfortable snooze, this was breakfast.
The full English.  Decent fuel before a heavy day of walking.  With coffee and toast on the side, quintessentially British.  All washed/chomped down in a cosy little breakfast room with a very friendly host.  Nice placings too and a very affordable price with nice touches to make it all feel like home.  Our host helpfully pointed out what to eat, where to walk and what to see.  She even loaned us a parking ticket that would let us park around the area for free.  A lovely hospitable touch.  My pocket thanked her, more money to be spent eating.
Definitely will be looking forward to staying here in the future.
Southampton Rd,
Lyndhurst SO43 7BU
After having spent the day out and about, we strolled into the nearby town looking for a recharge.  What made the choice up for us (or me) was a rather intriguing name.  Surfing Moo Moo.  I just hoped that curiosity would not kill the cat.
Surfing Moo Moo is a reference to the meat and seafood on order in this snug little place.  Little tree in the corner, multi-coloured cushions, a mix of high chairs and normal tables and neatly and uniformly uniformed wait staff.  It looked promising based on my very rigorous scientifically empirical facts (to use language of recent government announcements), that if a restaurant can be bothered to pay attention to where you eat, your chances of scoring decent fare increases.
Panang seafood curry, prawns, scallops, squid and catch of the day served with coconut rice and yogurt.  Nicely presented.  However, perhaps I should have been suspicious of Asian dishes coming out of an otherwise very Western menu.  It seems like the surfing should really stay at home as the seafood didn't really taste of much at all.  The various different morsels looked different but were almost indistinguishable in flavour.  They did have a different texture though so not everything was watered down or blown away.  However, even though the bite might be different, the various marine offerings were indistinguishably tasteless.  At least, the curry sauce saved it somewhat, bringing a little bit of happiness to the dish.  Then again, that probably came out of a packet like the seafood.
Surf tagliatelle, mussels, prawns, squid and catch of the day in a creamy turmeric and white wine sauce.  Probably coming out of the same mixed seafood bag as the previous, there was something a little extra here.  Some shellfish!  Sadly they didn't add much though.  Instead, it was the sauce mixing with the pasta which saved the day.  Better than the curry but then again, that wouldn't be hard.
So Surfing Moo Moo.  An interesting concept, especially with cartoons of a surfing cow on proud display in several locations.  Mixing seafood and cow, just like those surf and turf places that would offer steak and lobster in days of decadence.  In this well-to-do township, with a Ferrari, Porsche and BMW dealership less than 50 metres away, perhaps this is the type of clientele this establishment is targeting.  Yet the bright point was that if the food doesn't entertain you, the walking around the forest will.
16 High St,
Lyndhurst SO43 7BD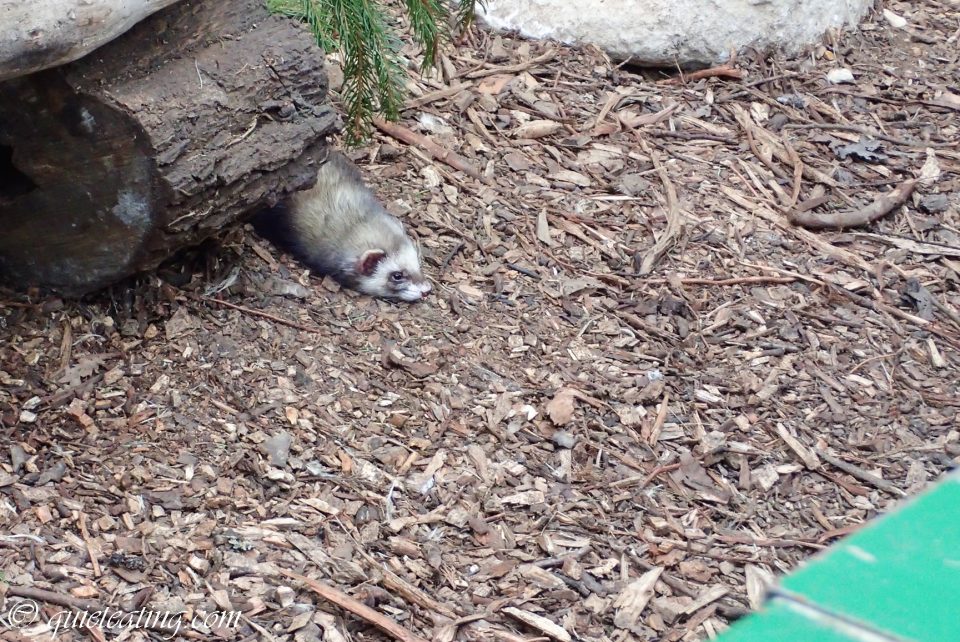 This is what I felt like after this meal.  A bit dejected.  This is Mr Ferret, who I met at the nature park.  He looks sad, like me after Surfing Moo Moo.  Should have known that surfing cows could not make good chefs.
However, now more than ever, I try to remember that tomorrow is a new day.  The next meal that we had the following day was to be better.
Rather good bread.  Even if there was only one piece of it.  Nicely sculptured butter.  Smooth and creamy to spread on the crisp and bouncy bread.
Half dozen Porlock Bay oysters.  A refreshing and rather delicious way to start the meal.  As they decanted into my dining companion's mouth, her smile of happiness said it all.  Fresh, succulent and carefully seasoned.
Fish and chips with pea puree and tartare sauce.  As we were out by the coast in Lymington, I thought I would have to try that quintessential British dish.  Fish and chips.  I'm glad I did.  Although it lacked elements of a fish and chips by the sea, wrapped up in greasy newspaper, eaten with a wooden spork by the sea and with angry seagulls dive bombing you to try and get a bite, I would pick this any day.
The fish was succulent and moist inside, the crust crunchy and the whole package rather delicious as tender flesh encased in crisp batter with delightful tartar sauce on the side.  The chips were decent too but it was the peas that were something out of the ordinary.  I could still taste the garden freshness of the peas as opposed to other mashes that I have had before.  Instead of bland, insipid green gruel from an industrial masher, these tasted like that this was made with individual care.  Perhaps even from their own back garden as I could almost taste the earthy nature of these vegetables.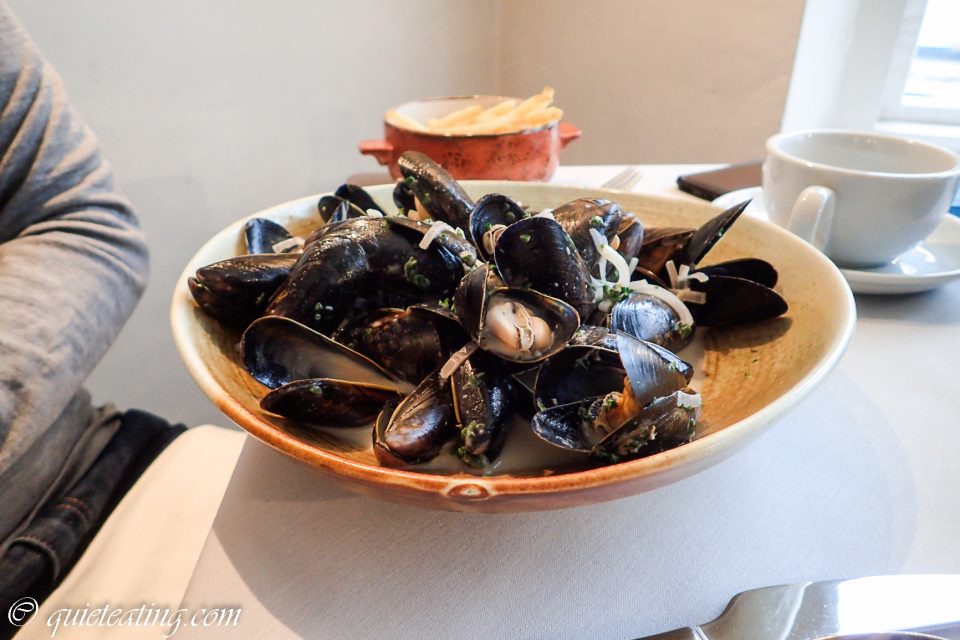 St Austell Bay mussels, light and creamy sauce and lemon.
Fries.  Delightful mussels in a light sauce.  These were particularly moreish having been cooked just right served with some light fries.  Not as awe inspiring as the fish though, in any other restaurant these would be stars by themselves.
Latte.  Sadly very watery.  It tasted as if instant coffee had been mixed with hot water and then topped up with some milk.  A quite sad end to an otherwise good meal.
Cappuccino and standard chocolate.  However, thankfully the chocolates offered meant that we left with a sweet little goodbye.
After that meal, I did perk up a bit.  Just like him.  Will have to be back to that seafood restaurant if I'm in the area.
4A Quay St,
Lymington SO41 3AS
For our second dinner, we tried some Thai next.
Som tum, shredded fresh green papaya salad with hot and sour dressing, green beans, tomatoes, fresh lime.  A deceptively cool looking dish, this look covered hidden menace.  As it became a crying shame if you didn't watch it carefully.  Which my companion did not.  Which I found particularly amusing.  As a result of which later that night I was subjected to particularly sharp umbrage.  Yet, I think it was worth it.
Drunken Noodles Prawns, with fresh flat rice noodles. Stir fried with prawns, chillies, garlic, mixed vegetables and fresh basil.  This was rather hot and rather good.  Tasty, juicy prawns with bouncy rice noodles.  A surprise out in the countryside but very welcome.
Pad Grapow Gai Kai Dow, stir fried minced chicken with chillies, garlic and fresh basil, served with Thai jasmine rice and fried egg.  Described by our waiter as Thai fried rice, it definitely was fried.  That is, if you decided to add the chilli in the small bowl, you would have a fiery time.  After the initial burning sensation calmed down, the heavy flavour of the chicken mixed with the egg to make something worth eating.  Quickly.  So much so that my dining companion who was sharing the meal with me wolfed it down.  Then again, perhaps she was just trying to reduce the burn of the aforementioned dish.
Perhaps a bit too fast though, as the burn caught up with her soon.  Yet still she persevered getting the majority of it down.  One problem with that type of appetite.
As my dining companion attacked the food with such gusto, the next day as we crossed a bridge, a thought sprung unbidden to my mind.
Sometimes I worry.
74 High St,
Lyndhurst SO43 7BJ
After having explored the New Forest, we thought to decamp to a nearby locale.  The Cotswold.  For change of scenery.  And more importantly food.
---
---