Manteca
I am by nature a taciturn man.  I find loud noises annoying, the burp of cars irritating and the barking of small dogs at times surprising.  I generally look to go to restaurants where this isn't a problem.  But this was not the case here. Lunch was so loud that I couldn't hear myself think.
While I do not usually hold my thoughts in particularly high esteem (so nothing much is lost) in this case the decibel level was so extreme that I found myself scrunching up my ears (and mouth) to try and minimize the impact.  Screwing up my mouth did impact the taste of things somewhat.
Then again, perhaps they have got something right as they seemed rather busy.  Well at least that's what I am trying to give them the doubt of.  When we sat down we were told that the concept of the restaurant was that "the food came as it came".  I.e. they had little kitchen control so couldn't manage the timing of the food like a normal restaurant and that showed with the extreme tardiness of most of our dishes.  Although being somewhat inept was not something isolated just to the kitchen as the waiters managed to deliver the wrong food to our table three times.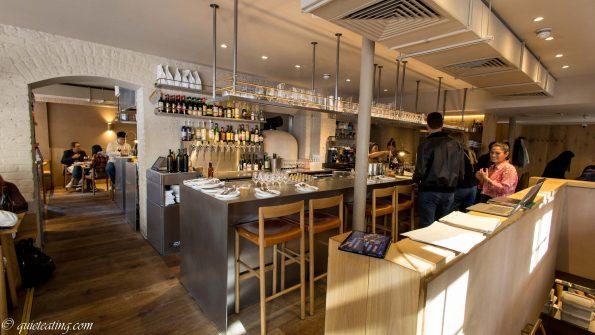 This is the rather nice looking upstairs.  I was excited as I enjoy light filled venues.  Better for photos.  Unfortunately, we were exiled to the basement which was cramped, dark, stuffy and extremely loud.  Must have been something on my face.
Wildfarmed focaccia, rosemary.  As a starter, this was ok.  Nothing special though and it seemed somewhat arbitrary how many pieces of bread you got when you ordered.  Well, that is what I am using to justify what would otherwise be blatant discrimination as other tables got four servings of bread.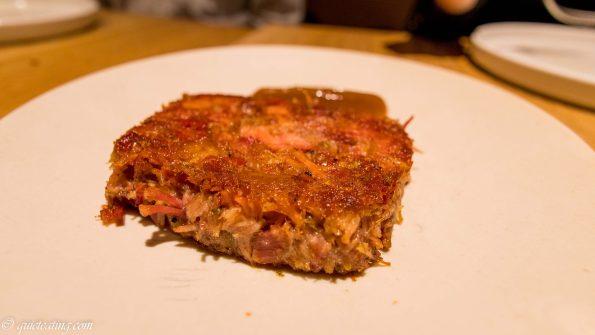 Fried ciccioli, apple mostarda.  Crunchy and fulsome.  Deep umami porky taste, this was rather nice if a little small.  Appeared 15 minutes after ordering.  This was to be a theme throughout the meal, delays like the tube.
Strozzapreti, brown crab cacio e pepe.  First the good, the pasta was nicely cooked al dante.  However, I wonder if more than a teaspoon of crab meat went into this dish, as it seems suspiciously crabless.  I would think that if you were stingy on the more expensive ingredients, the least you could do was try and provide enough grains to make up for that lack.
This was not the case as there was probably 50g of pasta spread around.  This rather meagre portion together with the lack of substance put me in a crabby mood.  Especially as this arrived 30 minutes after ordering.  Maybe they were out crab hunting.
Malloreddus.  Cooked a rather long time, the limp and too soft pasta was lifted up a bit by uninspired mince meat and cheese mix.  As you can see by the photo, this was also a minuscule portion.  We are talking about 1/4 of the usual size here.  Even smaller than the first dish.  Rather heavily over salted too.  The pasta (what little we had) was good though.  It arrived at the 40 minute mark in a haphazard manner much like the waiting service.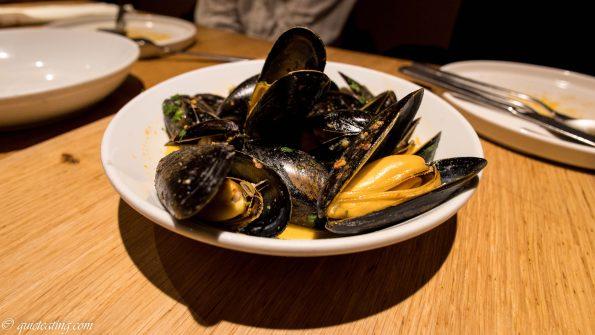 Nduja steamed mussels, cream, parsley.  Juicy, succulent with rich sauce.  There was a single rather small slice of fried bread at the bottom to soak up the sauce.  The miserly portions were becoming a bit much.  We had ordered this in the middle of our meal as we realised that the pasta portion sizes would leave us hungry (and grumpy) at the end.
Wood roasted plaice.  Decent but nothing special.  Could have done this myself as it seemed that it had just been roasted with minimal seasoning caveman style.  Then again, at this stage of the meal, I was just looking round for th
Crispy potatoes, salumi brown butter.  Crispy, tasty and fluffy inside.  These were decent but these took over an hour to come.  With that in mind, it wasn't really worth the wait.
There is a method of giving appraisals, called the sandwich method.  You give good feedback, then improvement points and then finally end on a positive note.  It also has attained some rather less polite monikors which are better not mentioned in the context of food.  Applying this to this restaurant, the taste of some of the dishes was decent, the upstairs dining room had a rather pleasing atmosphere.  As for feedback, the food was rather minimal in portion, scrimping on elements that would have made their food somewhat decent.  To add insult to injury, the pricing was also rather high for what you got.
Trying to think of a positive point to end on, sandwich appraisal style, at least we got our food in the end.  Even if we did have to wait an inordinate amount of time.  To counter that, we also amused ourselves watching the hapless antics of the waiters as they delivered the wrong food to the wrong table (again).  Unfortunately, this entertainment was somewhat curtailed as I couldn't hear the angry responses from just 2 metres away as it was almost too loud to think.
A quiet eating 4/10.
Lunch (1.5 course equivalent) was GBP 27 per person excluding service.
49-51 Curtain Road,
London EC2A 3PT
---
---