La Petite Maison
The small house.  Kind of a weird name for a restaurant.  As imaginative as Burger and Lobster serving, burger and lobster.  Or Five Guys serving, Five Guys' burgers.  Or KFC serving mutant chicken.  Although I guess it could be worse.  It could be called something less charming.  So with a question mark in my mind as to what small house cooking would be like, we began our dinner.
Poulpe Finement Tranche, thinly sliced octopus in lime.  Obviously fresh, the lime only helped to offset this lovely dish with the faint taste of, for want of a better word, octopus.  Simply done with a clean taste, just as I imagined food from the provinces (where I guess a small house may be more easily found) would be like.
Salade de Crustaces, crab and lobster salad.  A bit small but great nonetheless.  In these days of low cost lobsters, this spiny crustacean is no longer the purview of the wealthy but mere mortals like me can partake in it not infrequently.  The mixture of these two delicious but high cholesterol sea animals combined to make a meaty yet velvety smooth dish.  Silky in that the blend went down so fast, it was almost as if I blinked one moment and it was gone.  It was really that good.
Canard a l'Orange, slow cooked duck legs with orange glaze.  With crunchy skin yet soft and extremely flavourful interior, this was a dish to be proud of.  The orange combined with the duck fat and meat to make one of the best confit that I have ever eaten.  The restaurant has really outdone itself here.
Cote de Veau Grillee, grilled veal chop.  Tender and deliciously done, the fried okra was the topping on this meaty cake.  Although this displayed less obvious loving tenderness than the duck to cook, the dish worked exceeding well as the careful selection of the meats shone through.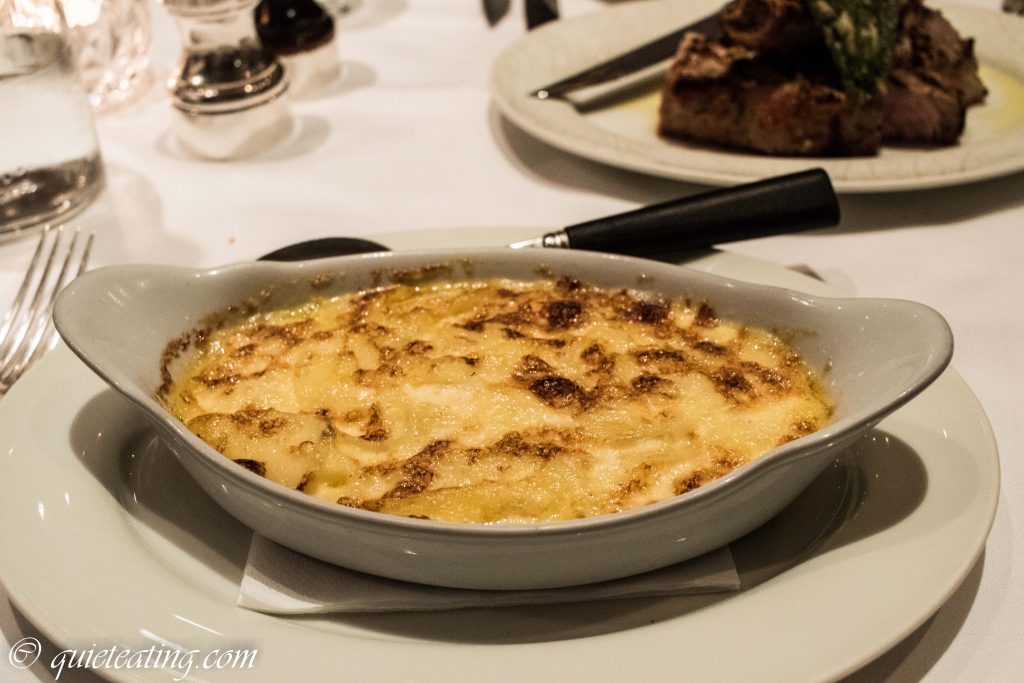 Pomme de Terre Gratinees, baked gratinated potatoes.  Creamy and delicious, the potatoes were done just right, enough to lend a creamy edge without dissolving into some formless mash.  A warming and rustic dish, just like I would dream that granny at the back of her little house might make.
Frites, french fried potatoes.  Probably the most ordinary of the dishes, these french fries in a French restaurant were fine but nothing fabulous.
Pain perdu fracon Cyrus, french toast with spice ice cream.  I thought French toast was meant to be savoury.  I'm glad it wasn't in this case as this was one of the best desserts I have ever eaten.  The French toast seemed almost like a firm exterior holding in pudding, so soft and creamy was the inside.  The spice ice cream added a delicious kick to the meal.  It reminded me of deep fried ice cream, without the cold and brittle exterior.  Actually, that's a bad comparison.  It was really so good that it defied description.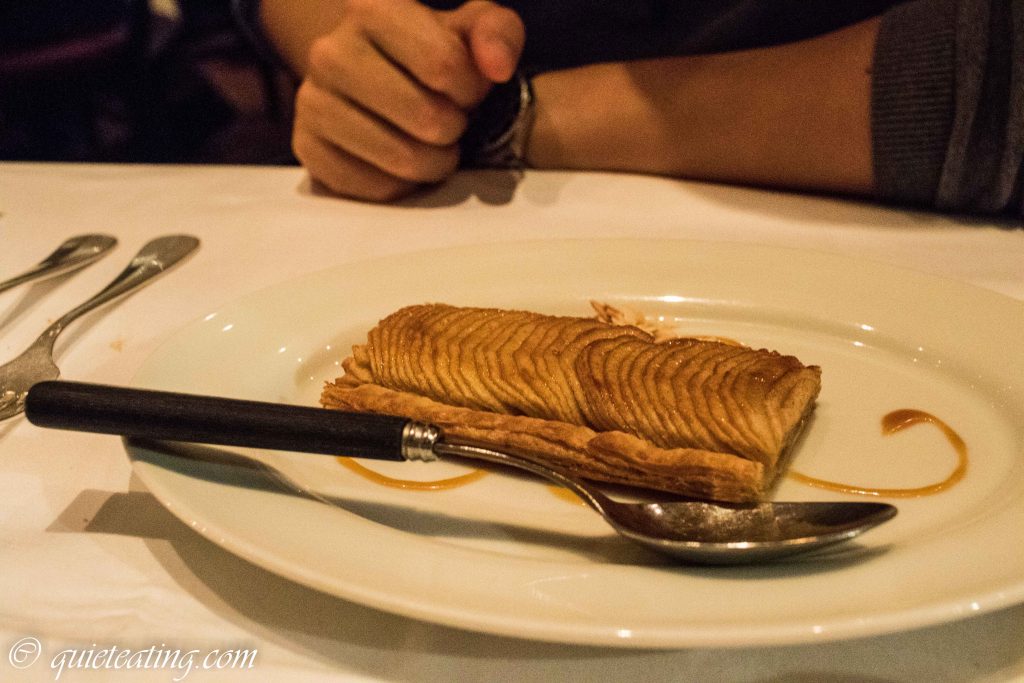 Tarte fine, thin crust apple tart.  Rather more ordinary, this apple tart was delicious but couldn't hold a candle to the French toast.
A lovely evening with sublime food.  Things were generally of high standard but in particular it was the dessert which was outrageously good.  If I could eat that every night it wouldn't matter about the ambiance.  Crisp white table cloths or around the dumpster at the back, it would still be worthy of multiple returns.  As we left, I thought that the inconspicuous street in Mayfair hid something rather special.  If all small houses have this type of cooking, it's time to move to France.
A quiet eating 8.5/10.
Dinner (3 courses) was GBP70 excluding service and drinks.
54 Brook's Mews
London W1K 4EG
---
---