Helene Darroze
It seems that people are keeping tally of where I eat.  Nosy people that they are, I think I need to maybe consider moving to a larger yard. They remark with surprise (some of you are rather bad at acting) that I had not yet been to Helene Darozze.  How could you not?  It's such a squawking shame.  When they offered the best poultry in town, I decided to give it a go.  I could kill two birds with one stone.  Try the restaurant and see if their boasts of the best chicken in the world were true.
The feet.  Perhaps this was a reminder that I could almost hear the scratching at my door for this chicken begging to be let in.  To be let into my critical mouth of course.
The menu.  Although I didn't get to play with this board as I had already selected the chicken menu, this was a very interesting setup for a menu.  The idea is that you pick the ingredients you would like and then the kitchen puts something together.  Fascinating.  I mean, how often do you really read the quintessence of how that meat was seared, that the vegetable was hand picked by some native in a faraway land? Maybe just let the kitchen do, you know, their job.  In any case, that is what we did with the chicken menu, no choice there.  We waited to be surprised (but not too much, I am Mr Exciting you know).
Fish parcels.  These really were good presents.  The combination of fishiness was offset by the delicate pastries, almost as if these were tortellini.
Oyster with foam.  I'm not usually one for raw oysters.  After this, I still wasn't one for raw oysters. Although my dining companion thought these were good, you will have to take her word for it.  I can't really provide any constructive comments.
Beef tartare with cream.  Nestled in a bed of seeds, these seemed particularly apt for the meal.  I did wonder if I was supposed to perhaps peck away to find something underneath the seed.  The beef tartare in cones was delicious.  Presentation was great too, they almost looked like ice cream cones.
Ham.  Hailing from the French countryside, these were exquisite.  In this chicken themed feast, it seemed that other animals would put on their best show too.  With a deep nutty flavour and just the right depth, these were excellent with the bread.
Herb and salted butter.  There were pretty to look at, rather more ordinary to eat.  Although that didn't really matter that much though.
Bread.  This bread was sublime.  Crunchy exterior, soft springy inside, earthy flavours on eating, this is what bread should be.  Eaten with the butter, this was a dangerous thing, especially given my love of good bread.  With an excellent start to the lunch, I struggled to contain my anticipation.  Then again, I tempered this with my history of eating food.  Surprisingly bad things seem to happen to me in restaurants.  I hoped this wouldn't be the usual unfortunate series of events but maybe it is best to live in hope.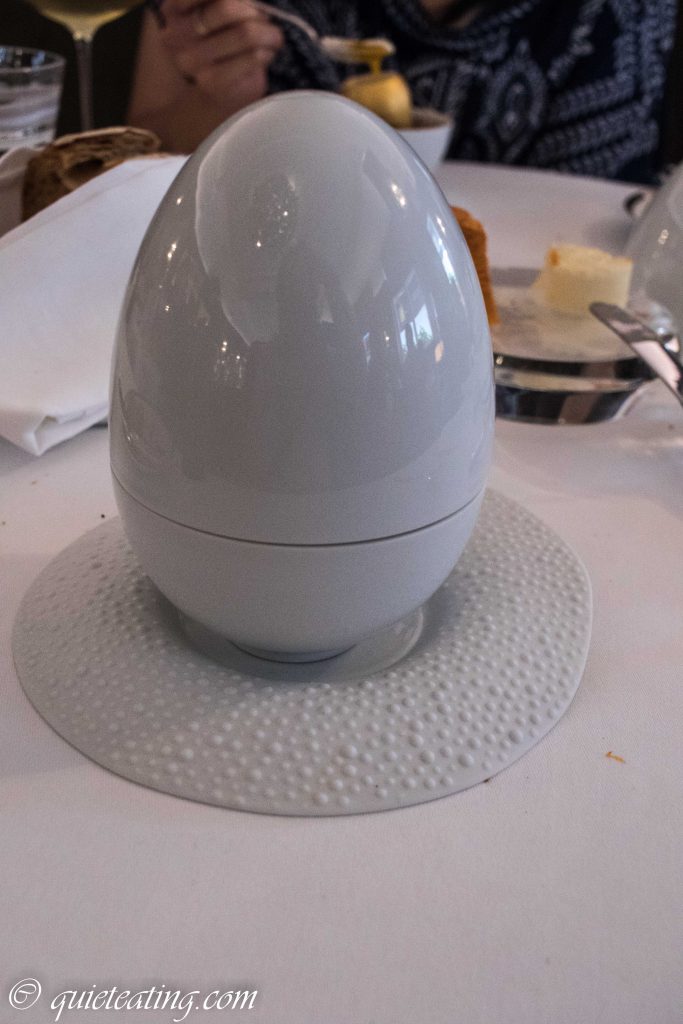 A closed egg.  This was the actual start of the chicken journey.
L'oeuf coque "directement sorti du cul de la poule"
Confit egg yolk, crispy skin and smoked bacon from Alsace, Parmigiano-Reggiano emulsion.  Not a clutch of eggs to start but just one.  The egg was ok but overshadowed by the bacon and emulsion.  An interesting idea nonetheless.
Le bouillon de la poule au pot comme le souhaitait Henry IV
Chicken consommé, ravioli of Bigorre ham, vegetables from the pot, roasted country bread.  The ravioli was excellent, the vegetables clean and flavourful, the consomme sadly rather ordinary.  Although I am sure that when stacked up against all those other chicken soups, this was to be one of the best, just on this day I wasn't sick.  So chicken soup was wasted on me.
The main event.  Dressed and trussed up ready to be served.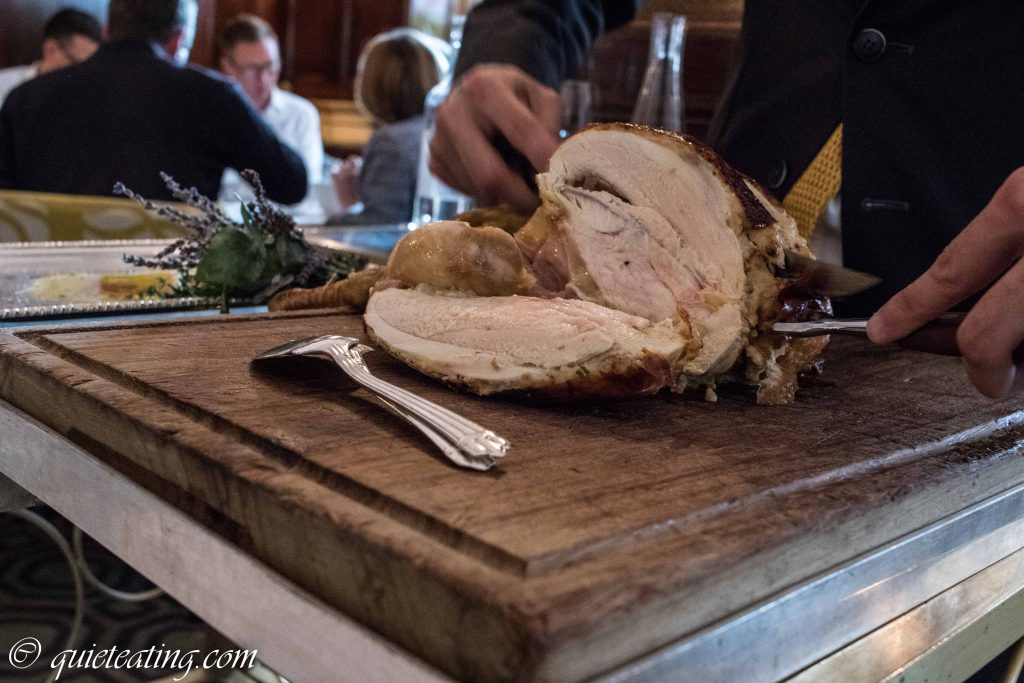 Halfway through the carving, the waiter noticed that the chicken was a touch pink.  It was promptly returned to the kitchen for a little extra fire.  Kind of spoils the moment.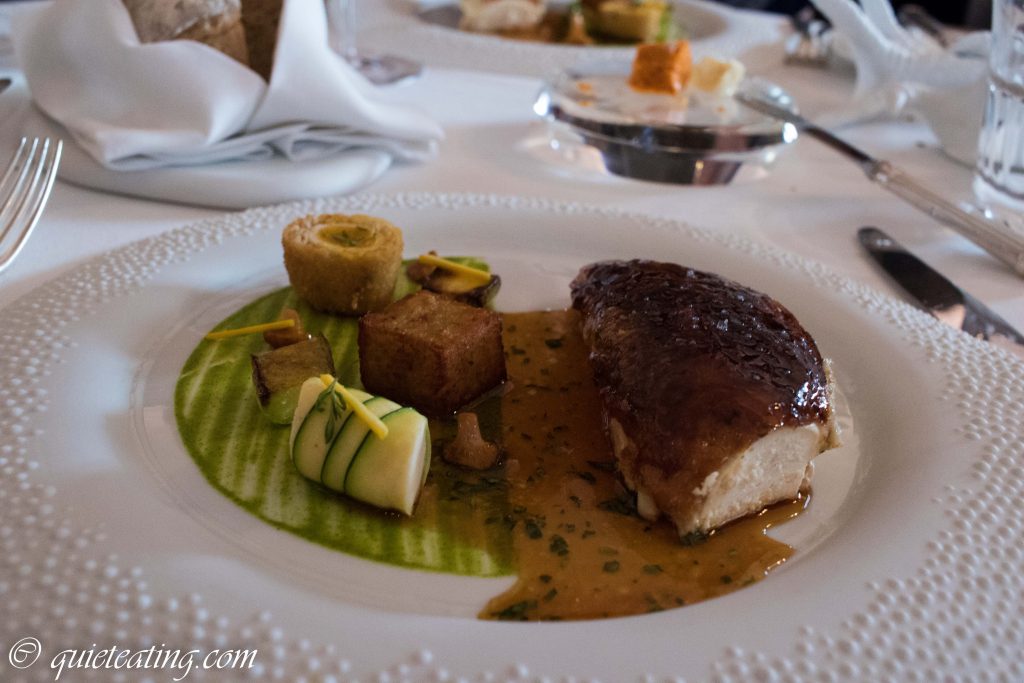 Le poulet rôti du Dimanche de ma grand-mère Louise
Roasted chicken stuffed under the skin with girolle and tarragon, chicken "Scotch Egg", boudin blanc, trombetta courgette.  Carefully plated on return from the kitchen, here is the thing that I had been waiting for.  I was expecting the best dish in the world, I would have settled for superior, I was rewarded with above mediocre.  What was worse, was that try as I might, I couldn't figure out where the rest of the chicken went.  If I'm paying more than I should for a chicken, I hope to see more of it.
Le taco méxicain "Retour d'Asie"
Corn tortilla stuffed with chicken confit leg, Haas avocado, cucumber, coriander and mint.  This tasted slightly like Peking duck.  The wrap, the meat and the sweet sauce (was I dreaming this?) all wrapped up to create a happy little package.  Not bad although a rather small serving.  As this was course four, I was unfortunately feeling a bit peckish.
Floating island perfumed with passion fruit and lemongrass.  Full of air, this was floaty, light and didn't taste of much.  Rather delicate flavours kind of wasted on me at this stage.
Crème caramel.  A rather uninspired tart.  I could go on trying to dress up the tart (the chicken could have done with a bit more of this) but I will just leave it at that as the next dish made up for its lack.
Olive oil madeleines.  This generous helping of madeleines made my day.  They were really just that good.  Think fluffly slightly sweet bread with a hint of olive oil taste.  These have to rank as one of the best madeleines I have ever had.  I think I ate eight, I'm not chicken when I see good food, rather I'm sometimes a bit of a pig.
Chicken puns.  Oh so fun.  The lunch was good (well at least the non-chicken portions unfortunately) with a more haute take on the humble roast chicken.  This was to be the most expensive chicken I have ever eaten.  Given the price it was also to be the most disappointing poultry I have ever eaten.  Although it could be worse, they could have grilled me instead of the bird.
A quiet eating 6/10.
Lunch (special chicken menu) was GBP130 for two excluding drinks and service.
The Connaught
Carlos Place
London, W1K 2AL
---
---