Greenhouse
It seems like some of the best restaurants aren't open on the weekends so require you to sacrifice either a weekday holiday or a busy weekday dinner.  Both are not ideal options so I had high hopes when I finally managed to get a day off to visit the Greenhouse.  Hidden in the middle of Mayfair down a mews and then a small short little walk in a leafy promenade, I had good feelings already.  After all, exclusiveness has its charms.
This was only heightened by the amuse bouches of beef tartar, asparagus cream tart and cheese tortellini which arrived on our table even before the menus.  Bravo, they seem to know that finding this restaurant built up my appetite.  The beef tartar was excellent with a lovely shape, taste and texture; the asparagus creamy and crunchy; the cheese tortellini a little pleasant savory surprise.
My fellow diner decided to contemplate the wine list.  Hmmm.  Looks a bit thick?  That's because…..  They have 3000+ bottles available…..  I also noticed several bottles running into the 000's of pounds there.  Ok let's put it down as its too heavy to read and for the wallet.
Olive bread and seaweed bread.  I know the maxim is often repeated that you can help judge a restaurant by its bread in which case the Greenhouse scores highly.  The olive bread was light and buttery and altogether very tasty.  Whereas the seaweed bread was delightfully flaky and delicately rolled around the seaweed slivers inside.  An excellent example of good ideas turned into great things.
Cauliflower cream in mint and apple foam on top of minced crab.  The waiter informed us that this was a signature dish and it sure did taste like one.  The cauliflower cream delivered a light smooth taste with the mint adding just a hint of spice and the crab underneath adding just the right amount of body.
Green asparagus, alsacian bacon and almond.  The barely perceptible white layer around the asparagus is apparently the fatty layer of pork just right under the skin.  It lent a slight meaty flavour to the delicately cooked asparagus accented by the almonds.  This was enjoyable but it was the next dish which really caught my eye.
Black tiger prawn, melon, lovage and yuzu.  I must commend this dish on being one of the most artfully arranged ones that I have seen in a while.  The raked sauce with little yuzu droplets was very pretty.    The prawns were just cooked still retaining some of their springy raw texture and the melon was an inspired choice as it's clean taste served to highlight the prawns.  I would have preferred the prawns a little more raw but admit that this is probably my Tokyo experience here pining away.  Pre-Japan I think I would have been perfectly happy with this dish just the way it was.
I thought that I might break away to show my cutting wit.
A shining blade.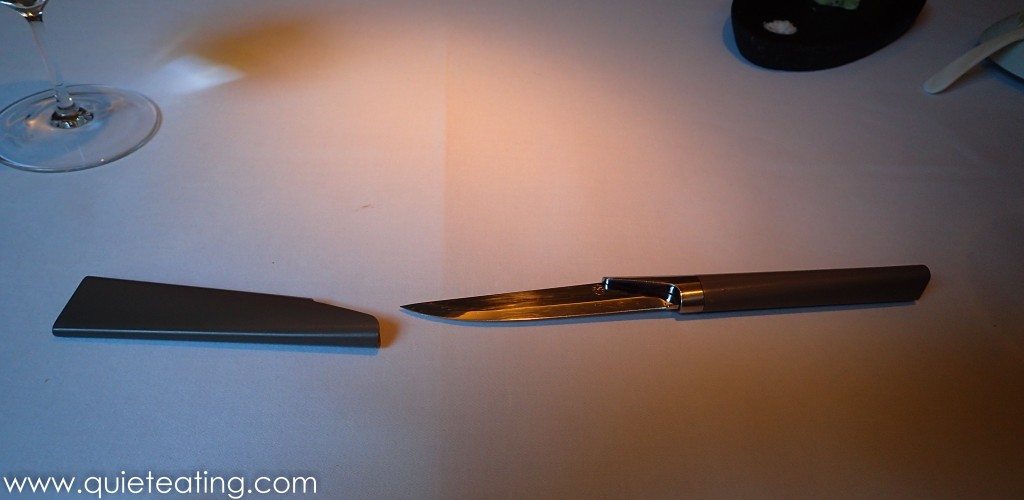 Which goes well with my riposte wit.  Ok, enough about me and my slightly lame jokes.  This sparkling knife was to deal with the next dish.
Pork, celeriac, coconut, coriander and praline.  A very interesting presented dish I was entranced to see how the celeriac, praline and pork combined.  However, unfortunately the pork was over cooked and a bit dry and tough which unfortunately meant that I seemed to have missed the planned pleasure of this dish.
Cod, potato, kholrabi, spinach and seaweed.  Luckily, my dining companion and I had made a pact to share everything.  So I got to try something to make up for the piggy disappointment.  This cod dish was fantastic with the cod cooked just enough but avoiding the flakiness often found in most restaurants.  The firm texture when combined with the vegetables was well done and reminded me of an excellent fish I had the other time at Fera.
Strawberry, nougatine, vanilla and lime.  This dish also delighted with the sweet strawberry and nougatine going exceedingly well together.  The sweetness of the strawberries with the slight tartness of the accompaniments played a pleasant sonata in my mouth.  There was even some strawberry juice to cleanse the mouth.  Although it was so good that it just left me pining for more.
Araguani chocolate, avocado and grapefruit.  Continuing the musical theme I had had with the strawberry dessert this dish resounded with a deep gong.  The avocado ice cream was very interesting which I say without any sarcasm for once.   The grapefruit and chocolate were delights but the savory nature of the avocado just didn't seem to sit that well with me.  Although it was an experience, I would have preferred a more traditional ice cream like mushroom (no sarcasm there *cough*).
Something, something, chocolate tart and coconut.  You had to forgive me there as I forgot the names of the first two due to my failing memory.  What I do remember is that they were a pleasant end to the lunch.
The Greenhouse was an enjoyable experience and out the 2 Michelin starred restaurants I have visited I would say that it sits somewhere in the middle.  As although there were highlights during the meal, unfortunately the pork main let the restaurant down.  I do know I went in with high expectations but with 2 Michelin stars, I expect nothing less than close to perfection.  Although, I would note that the service was at a level that I would expect so definite plus points there.
A quiet eating 7.5/10.
Lunch (3 courses) was GBP40 excluding service and drinks.
27a Hay's Mews, Mayfair,
London W1J 5NY
Addendum
I visited again in late July 2015 and felt that the food was just a touch better.  So I am revising my score up to a quiet eating 8/10.
---
---