Borough Market and Nasi Lemak
When I feel bored, I feel hungry.
And when I feel hungry on a Saturday and have time to spare, that means a visit to Borough Market is in order.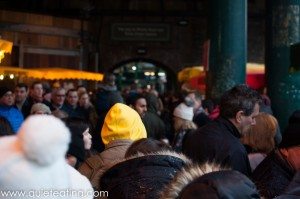 Known among both locals and tourists alike as a food heaven, Borough Market is a collection of food stores selling both cooked dishes and uncooked produce for the discerning palate.   It attracts all sorts (even if they are wearing fluorescent colours) who all share a common interest in satisfying the greedy (at least in my case) stomach.
It has a reputation for serving up unusual, appetizing food.  Like these chicken burgers here.   Delicious when put in a warp.  Although it did make me pine for yakitori in Japan.  Where they would grill all parts of the chicken on skewers over hot coals. Chicken wings, cartilage, skin and heart.
There is also more commonplace British fare for the less adventurous.  Such as in this quintessentially named fish shop which you might suspect holds delights similar to your usual chippie.  Actually, the name of this place, which is not shown by the picture, is Applebee's (but this makes for a better story).
Not so standard options though which included these prawns cooked to perfection and served with a spicy mustard salad.  I was surprised that they were not doing what I had seen when I was a kid at home, jumping out of the boiling water as they were dropped in to cook.  Now that was fresh!  Although, it was probably a little further away from my fresh fish sashimi tales in Tokyo, which is perhaps best for those who are a bit squeamish about fighting their food before eating it as seen here.
If you yearn for more un-complex food though, then you are in luck.  What better to eat than pasta?  In these tortellini filled squares dwells an unusual filling.  Wild boar finished off with fresh made pesto.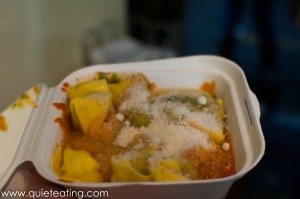 After gorging ourselves (ok, maybe it was just me overeating) we proceeded home to, of course, cook more food with some of the spoils obtained in Borough Market.
The food in Borough Market earns a quiet eating 8/10.
With braising beef from my favourite Borough Market butcher, Rhug's farm, this is home made rendang curry.  A dry beef dish from Indonesia made of a combination of spices, coconut and chilli, it proved an elating delight. It also made my eyes water a bit, in a good way.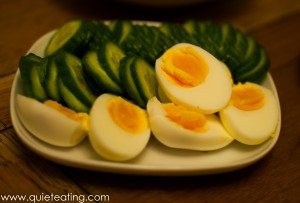 Traditionally served with cucumbers and hard boiled eggs.
And fried dried anchovies and nuts.
Accompanied by coconut rice cooked with ginger, it brought back memories of Grandmother's cooking in sunny Malaysia.  A complex blend of spice (chilli), sweet (coconut), smoothness (egg), crunch (cucumber), tang (lime), bitterness (anchovies) and earthiness (nuts) culminating in a sublime dish.  I think that if I lived in Malaysia, it might achieve what Japan failed to do to me – make me fat.
Definitely a quiet eating 8/10.  However, as it is home cooked food, it's all for me – sorry!
---
---