Bistro 51
Ahh.  A hotel dinner.  Been a while since I've been to one of those.  
Nestled in St James Park in an unobtrusive corner, the Taj Hotel manages to squeeze in within a stone's throw of the Queen's residence. It aptly provides a white tablecloth experience – what else within the proximity of royalty?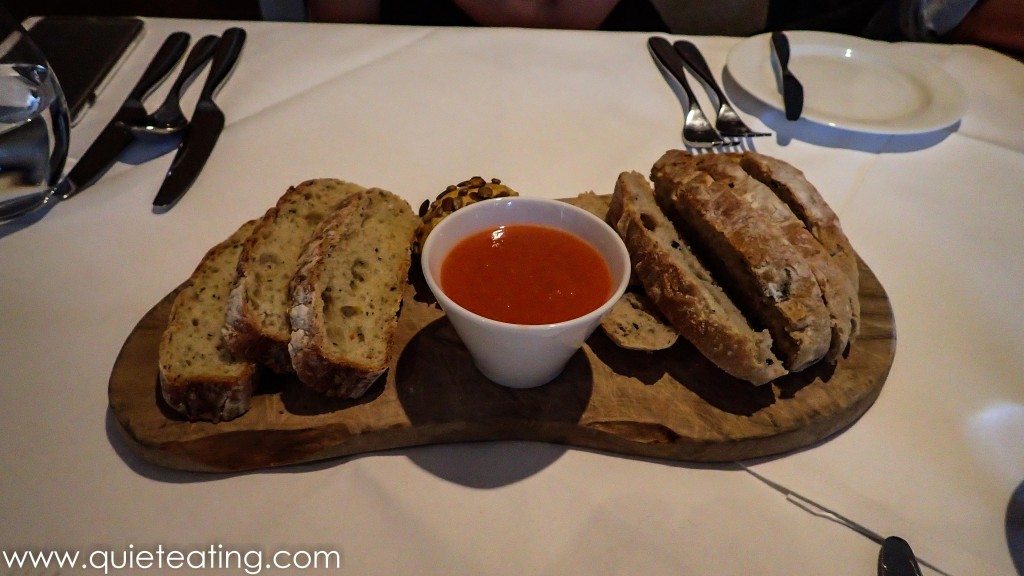 While deciding what to have, the house bread arrived with a tomato salsa dip.  Light and tasty.
Sesame crusted tuna, pink grapefruit salad and wasabi potato.  The starter looked good, tasted quite bland.  I thought that maybe the restaurant was trying a bit too hard with the presentation and innovation.  I felt that it was little bit too much flair which detracted from the main ingrident, the tuna.
Samosa chaat, sweet yogurt, tamarind and mint chutney.  My other diner's starter was samosas which were on the other hand really quite good.  In contrast to the tuna, these were flavourful, meaty and satisfying.
Grilled salmon fillet, asparagus and vierge sauce. The salmon was obviously cooked with much care and the potato, asparagus and vierge sauce went very well with the salmon. A touch which I particularly enjoyed was the crispy salmon skin. If there is reason to come back, this was it.
Palak gosht with steamed rice. The lamb, on the other hand, seemed faintly toxic and tellingly, my fellow dinner failed to finish her food. The thick sauce hid a few select cubes of lamb. Select in that they seemed to have been chosen for their singular lack of taste.
Cajun spiced chicken breast with basil mash and baby vegetables.  This was as boring as it sounds.  A little bit of artsy decoration of greens and sauce was not enough to lift the poor chicken to a higher level.
Manuka honey flavoured yogurt panacotta with berries and basil soup. Nothing to write home about. I thought the description of soup was quite interesting so creative points for that. Although it unfortunately does not come close to our Hibisicus moment with the waiter's hesitant explanation of how Malaysian a dish was. It is Malaysian because it is… er.. the pepper is Malaysian! I guess it could have been worse, the waiter could have said that the salt was Malaysian.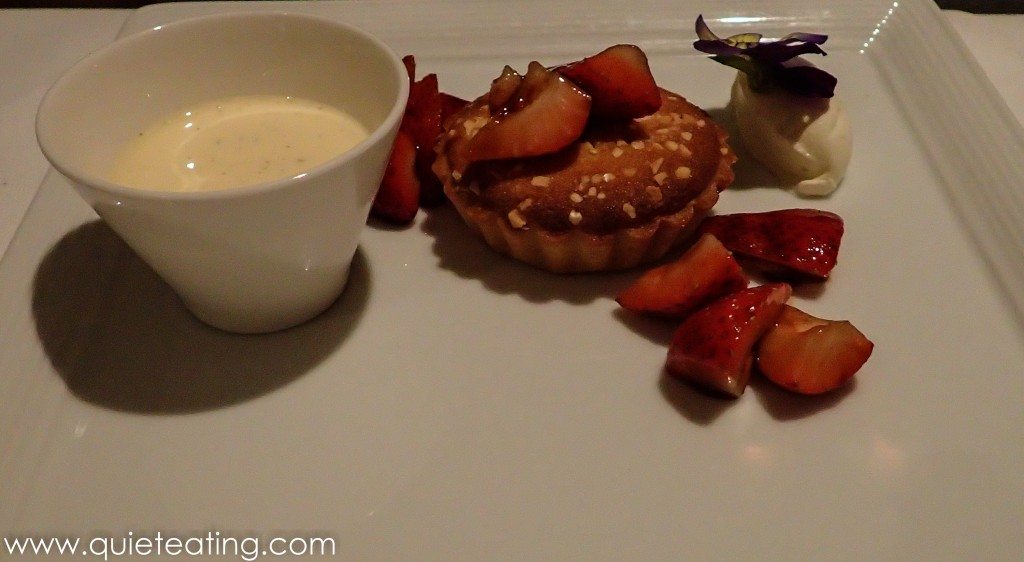 Bakewell tart, balsamic glazed strawberries and lime mascarpone cream. The tart was definitely bakewelled. The taste seemed to have been baked out.
We were filled with great excitement as things were looking up. On this invited restaurant review, we looked forward to being awed. Well, surely that is the whole point? The food was definitely surprising, both in a good and rather boring way. We came away with an impression that this was standard hotel grub so nothing really to write home about. If you are stuck in St. James Park, a walk across to Mayfair may be in order with its plethora of choice.
A quiet eating 5/10.
We were invited to review.  Estimated cost was GBP35 (3 courses) excluding drinks and service.
Bistro 51
St. James' Court, 54 Buckingham Gate
London SW1E 6AF
---
---