Bangalore Express
Predictability leads to boredom.  Well for me at least.  That's why I seemingly torture myself by gambling on my selection of eatery.  It adds a bit of spice to life.  Sometimes, literally.  So that's the short story of how I ended up at Bangalore express.  I set out to prove that I'm not dull and lifeless.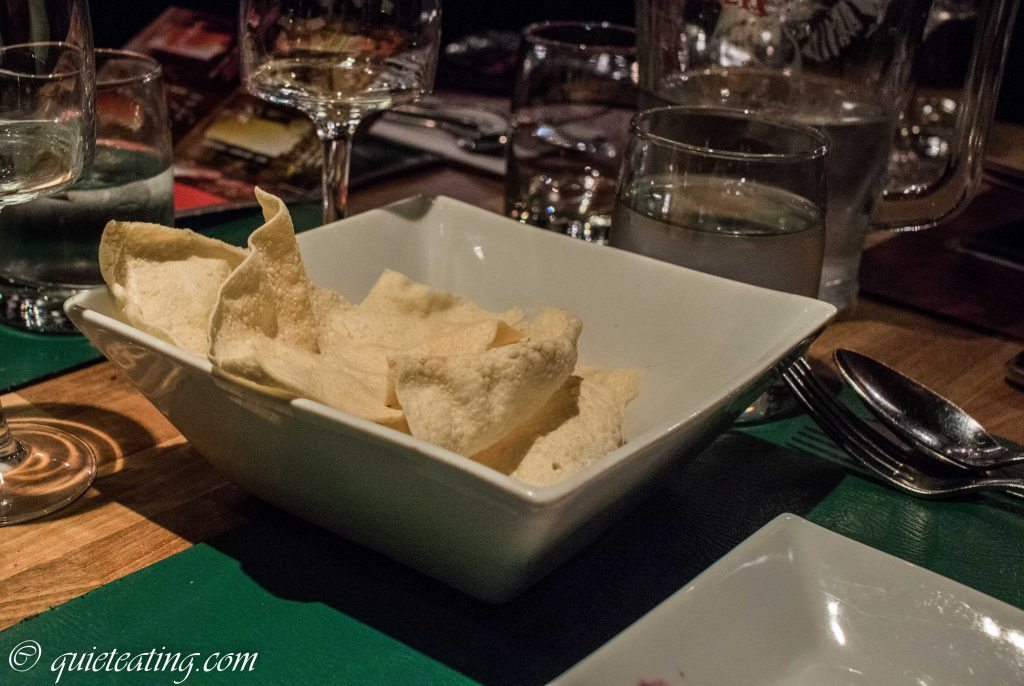 Some poppadoms while we waited for the delights of the menu.  These were crunchy and just begging for a little extra touch.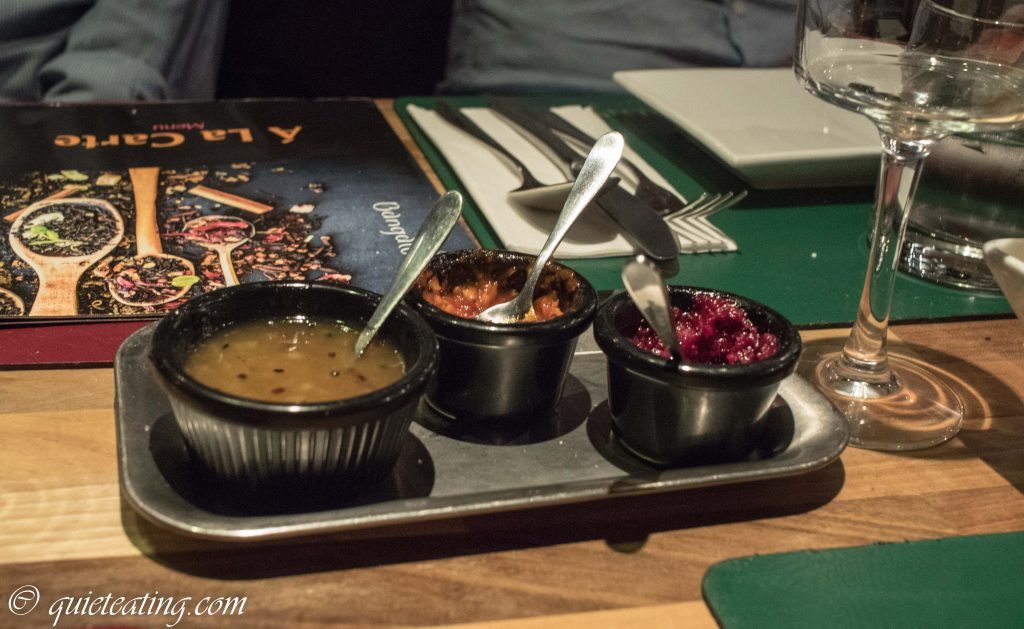 Which was delivered with some interesting condiments.  Onion salad, mango chutney and lime pickle.  I liked the chutney the best as it spiced things up.
Mango lassi.  Preparing myself for the heat to come, I ordered a yogurt based beverage as an emergency fire extinguisher if the currys were too hot.  This was sweet, full bodied and delicious.
Guava mocktail.  Others went for some fake liquid courage.  With a clean and sharp taste this prepared the palate.
Bangalore summer.  Gin, coriander and chilli.  Others went for the real deal opting to build real fortitude.
Steamed chicken dumplings (Nepalese momos).  With the arrival of the first dish we couldn't help but feel justified in our preparations for a bad meal as this dish was disappointing bland.  We couldn't but help to make comparisons to chicken dumplings usually served in oriental eateries.  This was not what we were looking for.  Where was the fire?  Maybe all the pre-dinner drinks were necessary.
Chicken 65.  Yet, we were shown that we had little to fear.  I actually have no idea what blend of spices went into this.  Yet, it didn't really seem to matter as these were meaty, moist and with a creamy sauce these were quickly gobbled down.  It seemed like redemption was at hand.
Marathi chicken curry on the bone.  A full bodied creamy chicken curry, this was not bad although we found the chicken puzzlingly slightly dry.  Although here we had a taste of spice with a welcome warming glow to our tongues.
Paneer tikka in a creamy tomato curry (paneer tikka masala).  This dish was a delight.  I was initially worried about paneer, having not tried this before.  Perhaps it might be rather weird.  Blocks of cheese?  Who would want to eat that?  Interestingly the paneer showed me that you could still have the satisfying fullness of meat minus the flesh.  Being a vegetarian in Indian can't be that bad with dishes like this.
Chilli squid.  I must admit here to preferring the fried version that I quickly gobble in Chinese restaurants.  This was different missing the tasty batter and oil and instead highlighting the taste of the squid with light sauce.  A break from usual programming by a different style.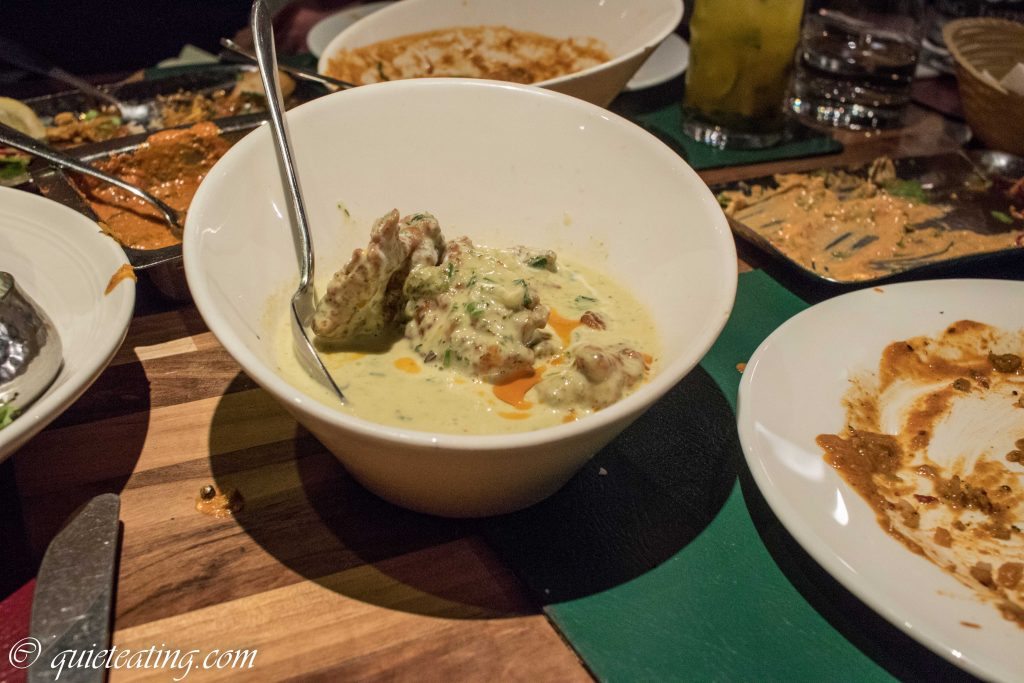 Cod fish coconut, onion & green chilli curry (thenkkai curry).  Continuing on this sea food trend, we had breaded fish in coconut curry.  Delightfully crisp, the creamy sauce served to highlight the delicate flavour of the fish with a subtle taste of spice.  Definitely something to come back for.
Coconut rice.  Presented in a very artistic manner, the rice had a little more than a hint of coconut but was pleasantly received nonetheless.  Definitely to recommend in comparison to mundane boring white rice.  An ideal accompaniment to the curries.
Chilli and garlic naan.  This plain (at least in comparison) naan provided a much needed way to mop up the errant left over sauces from the other dishes.  Springy with a little char this was a welcome taste of the other staple Indian carbohydrate.
Parantha with cauliflower (gobi).  Parnatha was something I had never tried before today and it will be something that I henceforth order.  With a cauliflower paste sandwiched carefully between parantha I could happily eat this in isolation.
Dhaka biryani with lamb.
With cover removed.  I've had bad briyanis to my unending horror before.  I've also had the opposite.  This particular dish changed everything.  It was the singularly best briyani I have ever had.  With moist yet individual rice grains, tasty and generous slabs of lamb  with yogurt and tomato stew topped with a bread covering, I just couldn't stop eating this.  Which proved to be my downfall as I was almost too full to have dessert.
Creamy cheese cakes in mango cream (mango ras malai).  At the urging, encouragement and later threats of my fellow diners, we ordered dessert.  The creamy cheese was the lightest of them all.  This cheese was lighter than the paneer, so thankfully did not push me past my breaking point.  Good thing too as although I enjoyed eating this, a direct reversal of this process at the table would be less welcome.
Fried milk solids in light syrup with vanilla ice cream (gulab jamun with ice cream).  The most filling of our desserts, this could have been too much but I couldn't resist.  I'm glad my will power wasn't strong enough as the smooth milky ice cream with more solid milk solids proved to be a bovine delight.
Creamy Indian ice cream with rose vermincelli & basil seeds (kulfi falooda).  The mixture of sweet and tangy, creamy and sharp was well received by all involved.  A sweet way to end an excellent meal.
We arrived at Bangalore express out of curiosity and full of a bit of apprehension.  Would our dinner be quick, dirty and served in an express fashion?  With the first dish coming across rather uninspired, the bar was set initially low.  As the meal progressed tastes became bolder and more pleasurable reaching a crescendo with one of the best briyani's that I have ever had.  With so many delights on the table, I was spoilt for taste and my stomach was satisfied.  But my trousers were uncomfortably tighter at the end.   I'm glad I stepped out of my comfortable zone to try Bengalore express, otherwise I might have missed adding a bit of colour to my life.
A quiet eating 7.5/10.
We were invited to review.  Estimated cost for dinner (3 courses) is GBP25 excluding service and drinks.
1 Corbet Court
3 – 6 Gracechurch Street
London
EC3V 0AT
---
---