Atari-Ya Swiss Cottage
When my desperation for Japanese food gets the better of me (which is often) I seem to repeatedly find myself fleeing to the Bond Street Atari-Ya branch.  I think it serves one of the best sashimi/sushi for its price/quality ratios in London.  Having partook of their raw selection multiple times, I was always curious to see how their cooked food fared.  However, such an undertaking required an audacious trip to the provinces (Swiss Cottage).
We were the first ones in the restaurant at 6pm but by the time we left, it was packed to the rafters.
With quite a substantial menu, we were initially confused over what to order.  Thankfully, we were rescued by one item which caught our eyes – sashimi octopus.  Excellent with wasabi mixed in, it had a real kick and set the bar for the rest of the meal high.
Black cod miso.  There was some excitement by other members of the group over this.  After Nobu first pioneered this, it seems rather ubiquitous.  Sometimes jumping on the band wagon can be a good thing, but it this case it was sadly average.  Nothing to write home about.
Negi toro (minced tuna with spring onions) and spicy salmon roll.  These were both good as expected, although in the take away branch you get about double the quantity for the same price.
Kaki furai (fried oysters).  One of my favorites when I was in Japan, I remembered eating this whenever I could when I was in my long exile there.  Crispy on the outside with a juicy oyster inside, these were definite fried delights.  I had to restrain myself from ordering more.
For our main course, soba noodles.  These were a bit of a disappointment as they were flat, stale and altogether boring.  Kind of like some people I know.  These tasted as if they had been re-hydrated from dried form, just like how the airplanes like to do it.  I prefer it when more labour is involved with soba, kneading the buckwheat dough, beating and making the noodles.  A little bit of love seems to rub off on them in the process, making them taste sweeter.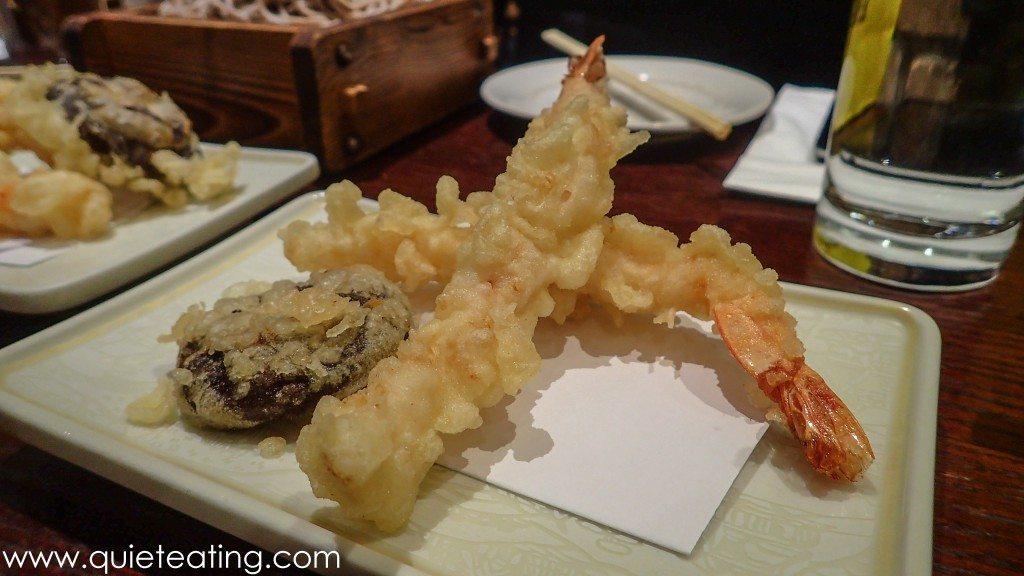 The accompanying tempura was also a step down.  Unfortunately lacking taste.  Taste of anything really.  Although maybe I have been spoilt by tempura in Japan, these seemed to complement the soba well as this too lacked a spark.
At the end of the meal, I was a bit puzzled.  How could such a variance in quality exist in the same restaurant?  The sashimi was excellent as expected although the cooked food seemed a bit lacklustre at times.  Although I would return just for the fried oysters, I could do without the other offerings.  Although for this price in London, you can't really complain.
A quiet eating 6.5/10.
Dinner (2 courses) was GBP20 per person excluding drinks and service.
Atari-Ya – Swiss Cottage
75 Fairfax Road, Swiss Cottage,
London NW6 4EE
---
---