Artisan Bistro Chelsea
Sometimes I'm accused of needing to practice my ABCs on account of my almost inscrutable writing.  I've been told that it seems slightly at odds with my job as it is full of minute points and thrust of words.  So it seems strangely apt that I would end up at Artisan Bristro Chelsea.  A place to practice my ABCs or perhaps just my awkward sense of humour.
In fashionable west London, this fairly new (they opened in 2016) restaurant has bravely undertake to provide reasonably priced, excellent quality food in a relaxed yet homely atmosphere.  The restaurant itself was done in calming and pleasing wood, with tempting benches and cushions outside under sunlight awnings.  An ideal place to kick back and enjoy a lazy Saturday lunch.
Bread with house marinated olives.  A delightful introduction to lunch.  The bread was crunchy on the outside, soft inside and the olives full of body.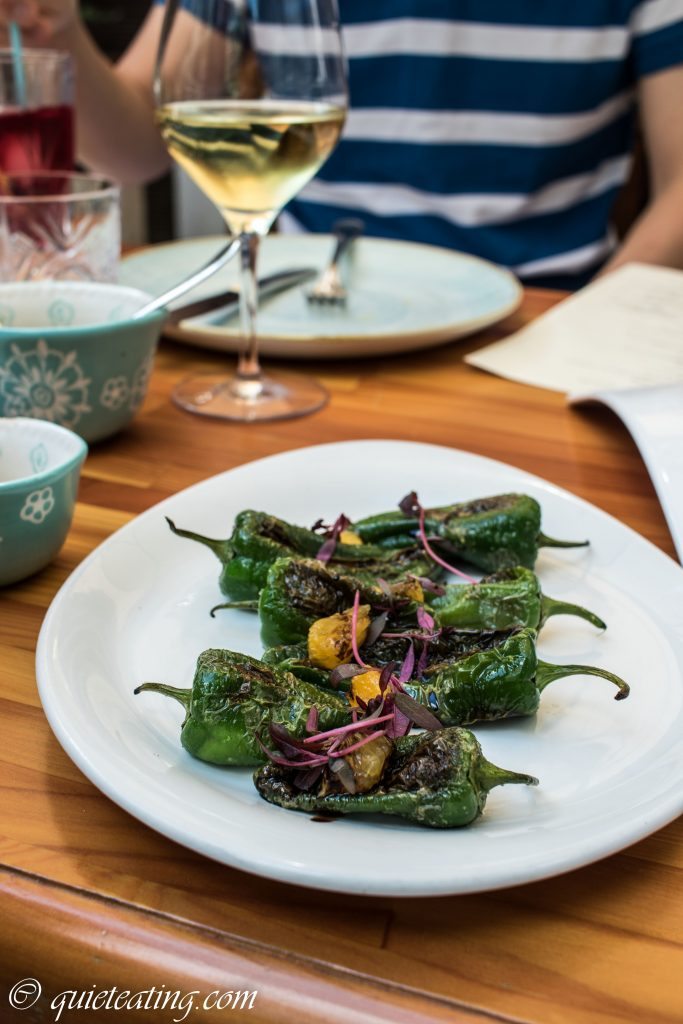 Sauteed Padron peppers, with orange and sherry drizzle.  Beginning with a fairly clean taste, these were good although probably marred by the order that I consumed these in.  I devoured these all before my other dishes which was unfortunate as it would have otherwise worked as an ideal palate cleanser between dishes purging all tastes that had come before.
Crispy aubergine with soy caramel.  Think gooey inside, crunchy exterior with the tactile sensation heightened by salt, sweet and creaminess and you will come close to what these are.  I could eat these all day but that would only be doing a disservice to the rest of the dishes.
West Mersea rock oysters.  Shucked expertly, these surprisingly large oysters tasted as if they had been swimming happily only seconds before.  Which I think they definitely were if the bounce was anything to judge by.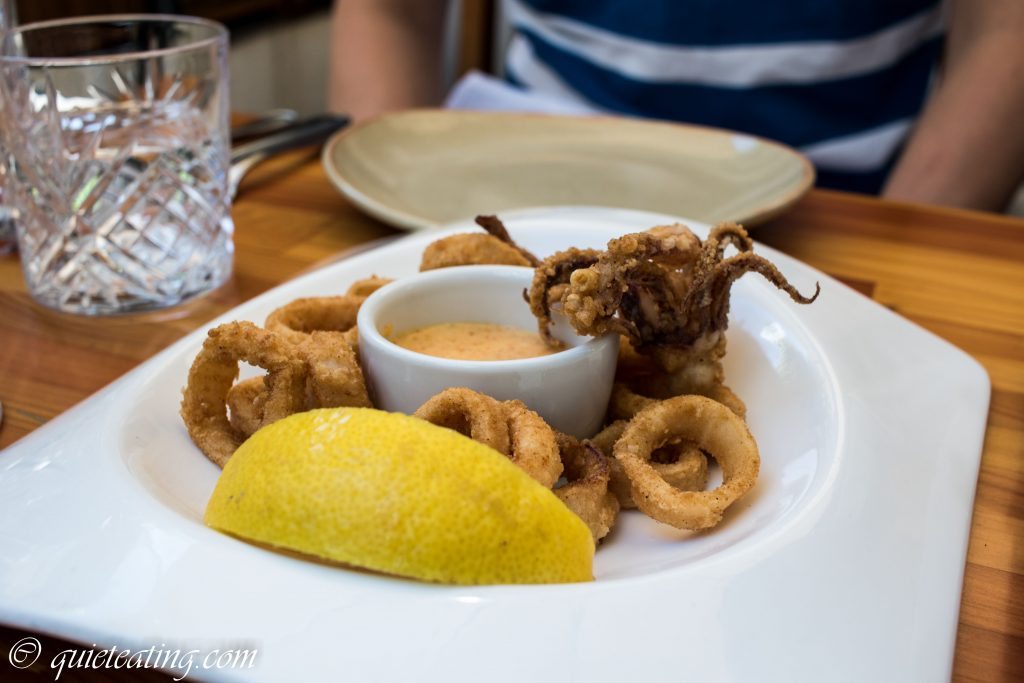 Deep fried calamari.  These were decent although they seemed a bit overcooked as they were unfortunately a bit rubbery.  Although I'm being very picky here.  They would be excellent in comparison to any other restaurant or if they were reviewed by a less critical and loquacious person like me.
Patatas bravas with garlic aioli.  Few things come closer to my heart than fried potatoes.  These soon chased the aubergines into my happy memory.
Boquerones – marinated anchovies, red onion and toasted bread.  With a reappearance of the excellent bread, these fresh anchovies were tasty.  Although I can't provide much more detail as I'm not really an anchovies connoisseur, my fellow diners assured me that these were good.
Artichoke gratin, spinach, Parmesan and mascarpone.  This dish was a heavenly combination of vegetables and cheese.  Creamy and smooth, this was beyond satisfying for a cheese lover like me.  I would come back just for this.
Lobster mac and cheese, 3 cheeses, bubbly and golden-brown deliciousness.  The golden-brown deliciousness bit is from their official menu, not my imaginative mind.  When pondering this on the menu, I did stop to wonder what this actually meant.  In other restaurants in the far East I get instantly suspicious as "golden-brown deliciousness" is often an euphemism for MSG.  Thankfully this was not to be the case.  As with the other dishes in the restaurant, this skillfully combined the elements of texture, taste and appearance to create an awe inspiring dish.  I don't think I've ever had a mac and cheese to compare.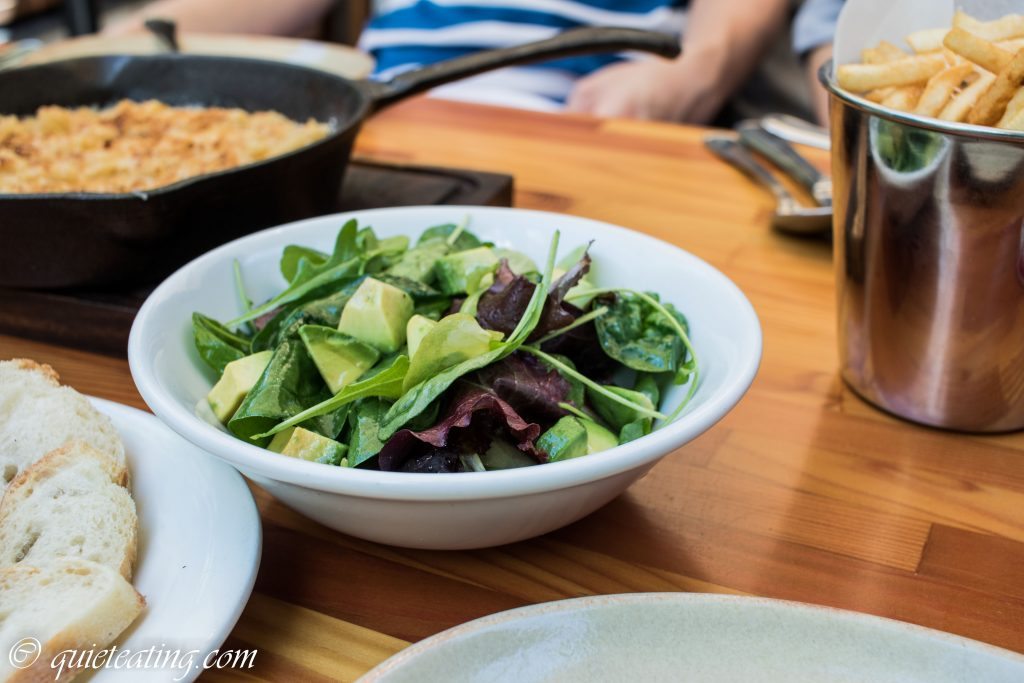 House salad.  Not really to my liking, carnivore that I am although I am reliable informed that this was not bad.
Truffle fries, Parmesan cheese.  Truffle adds an extra 5 point so most things by its mere presence.  The same was true here.
Seared sea bream.  Cooked in a pizza oven and delicately seared, this fish was a delight.  Flaky skin with moist flesh inside carefully seasoned.  The quality of the seafood again shone brightly through.  The delectable nature of the bream was attested to by the slim pickings of just bones left behind.  Another diner even devoured the eyes with relish.
Spinach.  A healthy, more earthy addition to the table this was gratefully received by those craving growing things.
Mini chocolate souffle with vanilla ice cream.  A great way to end with rich sugar helping to lift me out of my food coma brought on by too much good food.
Strawberry cheese cake.  Carefully layered and prepared this looked good and tasted better.
Rhubarb crumble.  With the rhubarb cleverly disguised underneath the crumble, one of my fellow diners who had an aversion to rhubarb was in for an unpleasant surprise.  Yet, once he finished with his mouth cleansing activities, he went on to admit that if he liked rhubarb this would be a good example of a fine dish.  High praise indeed.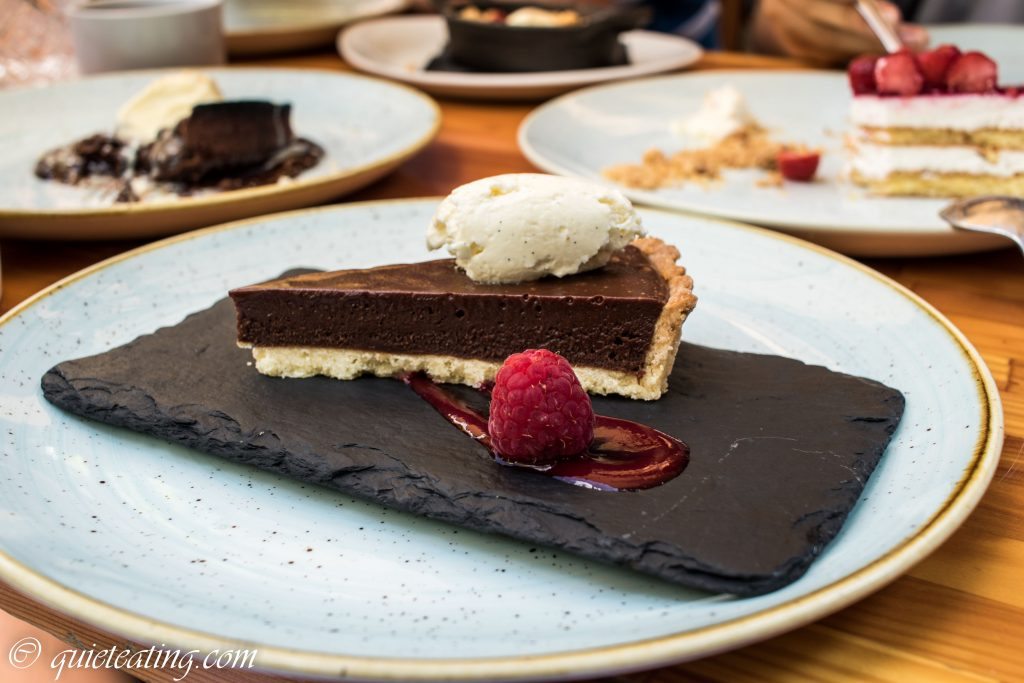 Chocolate tart.  With a firmer and more balanced flavour than the souffle on account of the base and ice cream on top, this was a delight.  Rich and firm chocolate core surrounded by enticing pastry done well.
Chocolate ice cream.  Just in case we didn't have enough chocolate in our desserts, here is the almost final blow.  Not bad although in comparison to the dishes that came before, just ok rather than mind blowing.  Maybe we were suffering from chocolate overload at this stage.
Pistachio ice cream.  A hint of pistachio was a welcome end among the chocolate laden desserts.  A cleaner way to finish off the meal.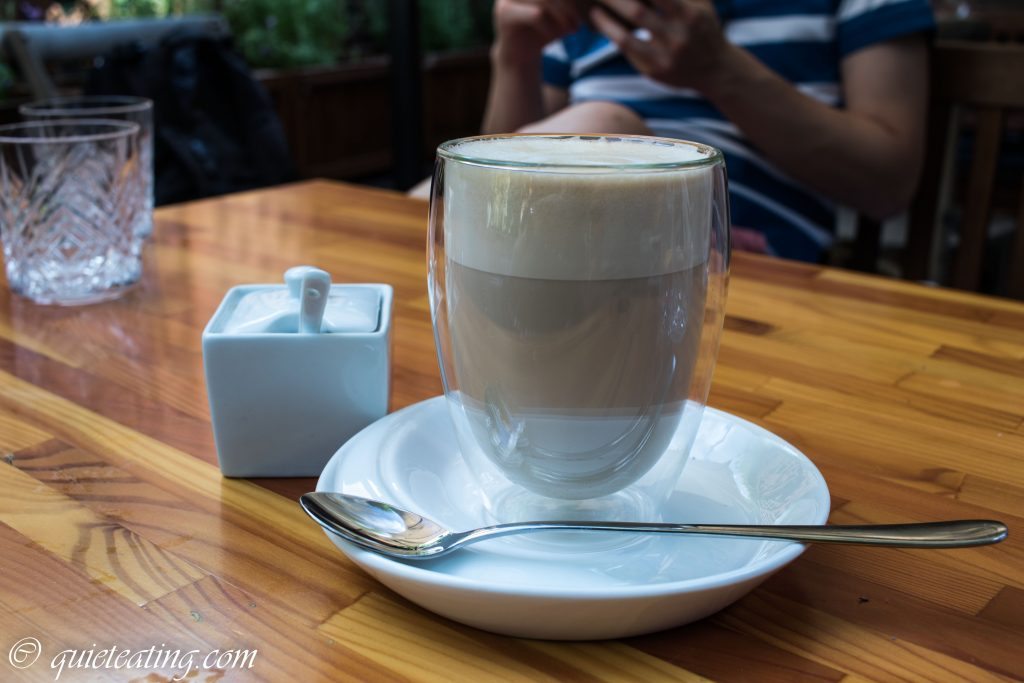 Latte.  Creamy and in a double walled cup thoughtfully catering to people like me who like to nurse their coffees at the end of a great meal.  An excellent coup de grace.
Artisan Bristro Chelsea was a surprise.  Not because its dining area was so understated and elegant, nor due to its unusual take on dishes not usually seen in London or even its reasonable price for good food.  It must just be because it combines all these elements to create an atypical restaurant in these days of seemingly slavish devotion to the latest food craze.  Pizzas, burgers, ramen, ribs – I'm not looking at you of course, no no.  Instead here is a new comer who is willing to break the mold.  Now that's a brave cafe done excellently.
14 Hollywood Rd, Chelsea
London SW10 9HY
A quiet eating 8/10.
We were invited to review.  Estimated cost (3 courses) is GBP 25 excluding drinks and service.
---
---