Smokestak
You would have thought that at my age, I would learn to keep my big mouth shut.  I've had enough things not go my way in my eating adventures to know the truth of that first hand.  The aforementioned sentences' lack of tangentiality will be shown if you read on.  In my quest to quench my hunger for meat, we visited Smokestak.  A venue offering the smoker brought right to your table, with the choicest cuts of cow/pig/fish/other usually edible animal served with a minimum of fuss and cost.
Wild mushrooms, beef drippings on toast.  We decided to start off with something fairly safe and uninspiring, mushrooms on toast.  Although other reviewers have waxed lyrical about this, I found it not really to my liking. The whole dish left me with a sour taste in my mouth.  I mean that literally. The tart taste combined with the fungi to deliver a dish that wasn't really for me.  The toast was good though.
Crispy ox cheek.  I profess to having a weakness for anything with ox cheek in it. Although given the general theme of this post, I guess I should be wary of making that comment.  I don't know how ox cheek ice cream would turn out yet and hopefully I never will.  This particular specimen was welcomely crispy on the outside, soft and delicious on the inside.  It gave me hope after the mushroom toast.
Torched mackerel, burnt leek.  This dish came as something of a surprise.  Although maybe the title should have given me a heads up.  Subject to the similar theme of burning treatment as the meats, this fish dish managed to produce something of great delicacy and flair.  Although I usually shy away from mackerel in the UK on account of my previous flatmate's love of the smoked Tesco variety, this was instead something that I would seek out again.  Cooked just the right side of the spectrum, this was flaky, oily in a good way and altogether rather enjoyable.
Beef brisket, barbecue.  With a delicious layer of fat on top to smooth down the smoky meat.  This is what I understand they made their name on during their street hawker days.  Before I had time to blink, it was gone.  Something to fight others for.
Beef rib, pickled red chilli.  Although this was not bad, it did not hold a candle to the brisket.  Sadly a little overcooked, it seemed slightly tough although the brisket may have the advantage of fat to ward off the dryness devil.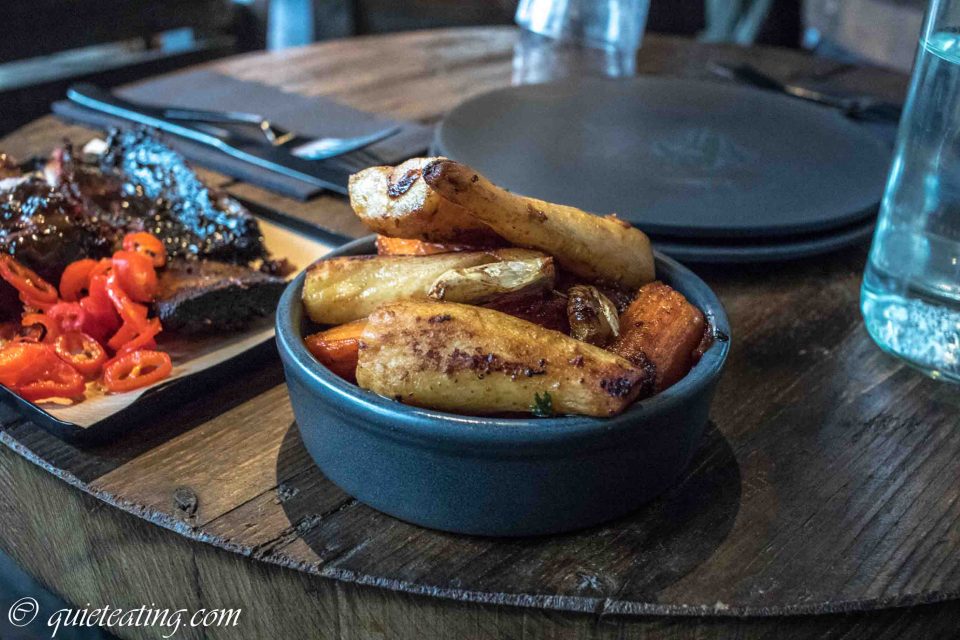 Roasted carrots, thyme, honey.  In our attempt to be slightly healthy, we ordered some vegetables.  They were as ok as vegetables can be.  I would not be hurrying back for more.
Jacket potato, smoked rarebit.  This mutant looking potato tasted rather atypical.  As far as I am able to tell, this jacket potato has managed to convince someone to slather melted cheese on top and then char the top to a lovely brown.  An outstanding dish foreshadowing what was to come.
Sticky toffee pudding with ice cream.  A sticky toffee pudding the likes of which I have never had.  I am not being my usual sarcastic self when I say this.  The pudding was almost indescribable in its greatness but here I will attempt to relate through my feeble discourse what it was like.  Not too sweet, not too mushy, not too full but rather just absolutely right.  If only all other meals could end like this.
In counterpoint to my usual posts, here I was treated to an experience of starting from rather mediocre beginnings but ending strong.  Smokestak is a restaurant that can surprise, if you give it a chance.  With my lessons of other places starting high and crashing and burning, I should have realised that the opposite was more than possible.  At Smokestak, you just need to give the plane a bit of a longer runway to take off but once you are in the air, it's all champagne and truffles.
A quiet eating 7/10.
Lunch (all of the above for 2 people) was GBP33 per person (so GBP66 for two) excluding service and drinks.
35 Sclater St,
London E1 6LB
---
---